Almost 20 years after her death, Patricia Highsmith is set to have a West End hit with the stage adaptation of the debut novel that made her name. Strangers on a Train has just opened at the Gielgud Theatre in London and Highsmith fans should get on board this chilling, eye-popping production adapted by playwright Craig Warner.
Strangers on a Train, Highsmith's chilling psychological crime novel about the perfect murder, was published in 1950 and soon captured the public imagination. It helped that former first lady Eleanor Roosevelt recommended it in her newspaper column. Today the author is better known for her Tom Ripley series – The Talented Mr Ripley appeared in cinemas in 1999.
Hitchcock v Chandler v Highsmith
However Strangers on a Train was made famous much earlier with Alfred Hitchcock's 1951 film adaptation, though the plot was significantly altered. Guy Haines, the architect who's drawn into committing a reciprocal murder, was given a new profession of tennis player. He also fails to keep his side of the bargain when it comes to murdering the father of the stranger he meets on that train. The movie was also notable for the abandoned screenwriting involvement of Raymond Chandler, who struggled with the novel's plot and Hitchcock's demands.
Highsmith was ultimately unhappy with the movie, though she did admire Robert Walker's performance as the amiable psychopath who holds both the book and film together. That character, Charles Bruno, is also one of the best things about this stage play thanks to an intelligent and memorable performance by Jack Huston. He's a stalker and blackmailer, a dissolute fantasist and mummy's boy, and yet we're charmed and exhilarated by his antic personality. Like Guy Haines, we become trapped in his fantasy world of perfect murders and homoerotic obsession.
The perfect murders?
Guy Haines (Laurence Fox) is, it has to be said, not the most interesting character in this story and Fox gives him a stolid 1950s dignity, at least until his life unravels following that fateful meeting on a train heading to the American South West. "Trust me, say anything you like to me – you'll never see me again," says the garrulous, half-drunk Charles when he notices the troubled Guy. It turns out that the architect's estranged wife, Miriam, is pregnant with another man's baby and is threatening to ruin his career and new relationship.
Charles falls in with Guy, who's trying to read Plato, and badgers him about his own egotistical philosophy of life. Before Guy gets off in Texas, he's been unwittingly embroiled in a scheme to swap murders as a method of confusing any police investigation. Charles will dispose of the troublesome Miriam if Guy will just agree to kill Charles's wealthy father, who's being too strict about money for his son's liking. It sounds like a sick joke, but Charles is soon on a trip to the town in Texas where Guy got off to negotiate his failed divorce.
Murder, blackmail and obsession
It's at this point that the play really gains momentum, as this smiling killer pursues Miriam on a revolving stage set that's been transformed into an old-fashioned carousel. It's a terrifying set piece and shows off the ingenuity of the set designers as well as the insidious, feline performance of Huston, who was so good as the disfigured World War I veteran in HBO series Boardwalk Empire.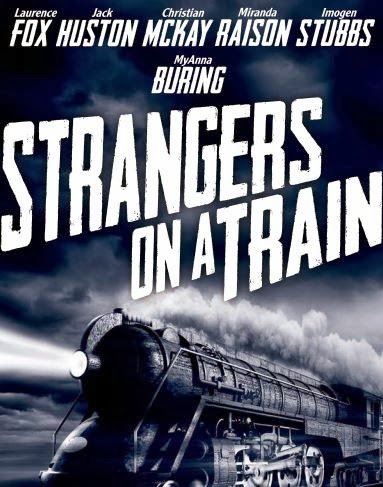 The gleeful, maniacal confession Charles later makes to Guy is truly terrifying as the killer throws in casual threats to ensure this respectable architect becomes what Charles wants him to be – a murderous alter-ego. The first half of the play ends in explosive style and then we get to witness the unraveling of this one-sided conspiracy as Charles keeps appearing in Guy's life. He's soon great pals with Guy's fiancée Anne (Miranda Raison) and describing the couple as 'my new family'.
Enter the PI and the blonde
Even though you marvel at the revolving sets, the projections of relentless locomotives and shadowy forests, and the sinister musical score of scratchy violins and creepy 1950s crooners, the second half does feel a little drawn out. However, it is soon enlivened by the appearance of a dogged PI (Christian McKay) and a stupendous performance by the classical theatre actress Imogen Stubbs. Her role as Elsie, Charles's vampish mother, brings a note of noir strangeness and humour with her inappropriately physical relationship with her son. "He's awfully sensitive," she tells the PI of this psychopathic killer.
Playwright Craig Warner doesn't fully capture the psychological perception of Highsmith's novel of mutual obsession and lurid fantasy made criminal reality, although his ending is undeniably bold and shocking. He certainly gets Highsmith and fans of this enduring novel won't be disappointed by this adaptation. Strangers on a Train is a genuinely thrilling, suspenseful drama as well as an explosive, sensory theatre experience that deserves to be a big hit.
Strangers on a Train is running at the Gielgud Theatre until February 2014. Tickets range from £19.50 to £87.
CFL Rating: 4 Stars
You can read LoiteringWithIntent's article Revisiting Mr Ripley here.