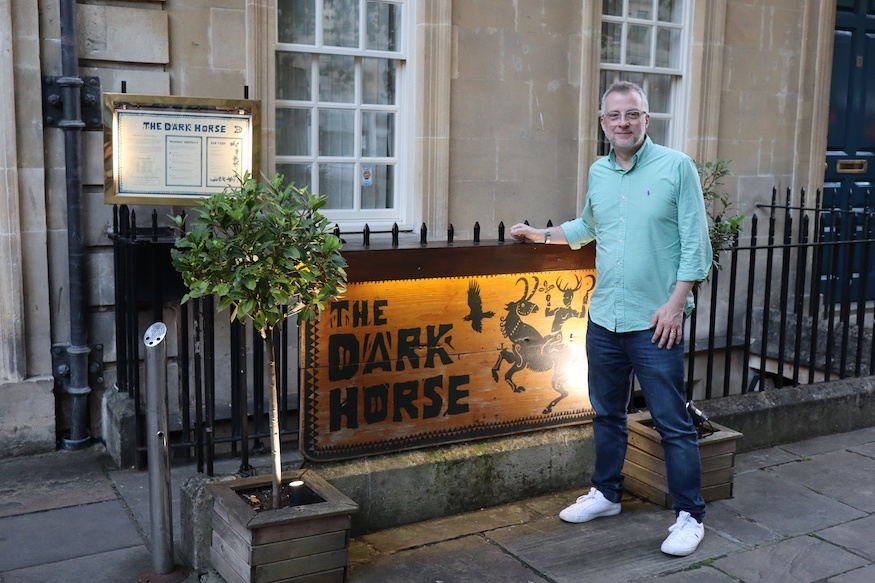 What's your poison? Many of us enjoy sipping a tipple while we sit and read. But take care: poisons account for over half of the deaths in Agatha Christie's canon, more than 30 murders. So be sure to swirl that drink and sniff it for the tell-tale almond whiff of cyanide.
Agatha Christie trained in the use of toxins. She was an assistant dispenser during World War I, earning a degree from The Worshipful Society Of Apothecaries. She knew a thing or two about the effects of concoctions on the human body.
All this is made clear in the first few pages of Agatha Whiskey, Colleen Mullaney's fun cocktail and mocktail recipe book inspired by the works of the Queen of Crime. It contains 50 recipes based on Christie's most famous mysteries. A little under 20cm high, in hardback with a matt cover and neat Art Deco styling throughout, could it be a must-have for crime fiction lovers? Following on from the author's Gin Austen, you know the puns will be as prevalent as the cocktail concepts.
A book like this calls for a special investigation. No ordinary review will do when one is presented with 125 pages of instructions on how to make such delicacies as a Daiquiri on the Nile or Paloma at End House. Instead, your intrepid investigators took Agatha Whiskey to the Dark Horse in Bath. Voted one of the top 10 best bars in the world by Tales of the Cocktail and one of the top three bars in the UK by Imbibe magazine, it was the perfect place to find out. Their expert mixologists made four cocktails from the book with bar quality ingredients so that we could properly judge the recipes included.
The Agatha Whiskey cocktail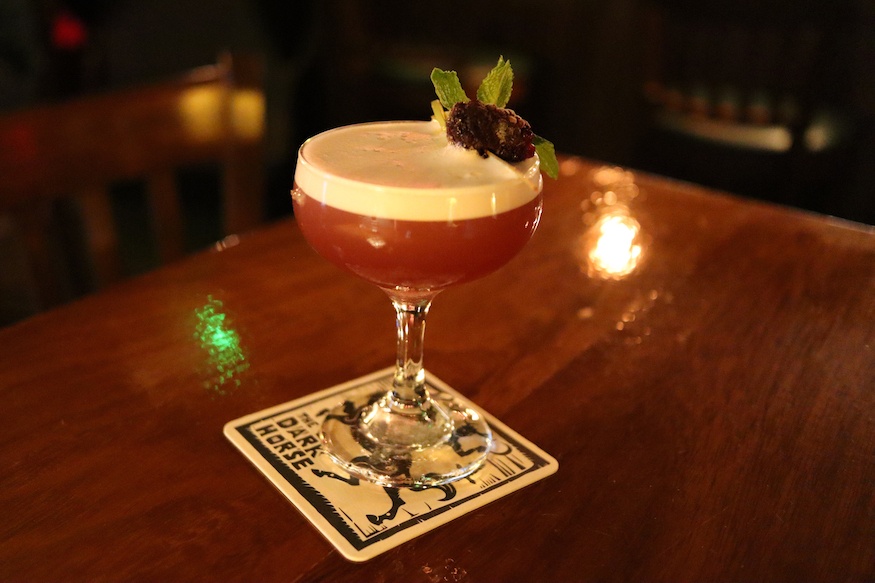 We started with the Agatha Whiskey itself, the signature cocktail and the one that gives the book its name. Like most of the cocktails in the book, this is not an attempt to recreate a drink from one of the famous mysteries but a new twist on a classic cocktail, with Christie's work as inspiration.
There is a list of bar basics near the beginning of the book, including items you'll need in your kitchen, like a jigger. It also explains the types of glasses.
Each recipe comes with a short preamble, with facts about a popular book or character, and then the ingredients.
In this case, we're toasting the great author herself, and the drink appears to be a variation on the whiskey sour with a blackberry twist. It's made from bourbon whiskey, blackberry juice, blackberry liqueur, mint simple syrup and egg white. The recipe calls for it to be garnished with blackberries and mint sprigs.
Our mixologist at the Dark Horse, Charlie, set straight to work and saw this as no challenge (describing it as an easy one) except for the need to substitute the fresh blackberry garnish with a frozen one. He used authentic crème de mûre – French blackberry liqueur – in the mix.
A traditional whiskey sour is most likely to be served in a tumbler or rocks glass, but the book calls for a coupe glass, so the bar obliged.
The result was an elegant and deliciously fruity cocktail. With the froth settling on top and the light blackberry colour clearly visible in the glass, this looked the part – and was dangerously quaffable. It tasted like adult Ribena, cold and refreshing, with a palatable sweetness and just a hint of alcohol aftertaste. You could down it for hours.
The Agatha Whiskey received a thumbs-up from us all. "I'd be very happy if I ordered this on a night out," enthused our photographer Rhian.
At this point, it's worth remembering that Christie herself was teetotal and would not have ordered a cocktail with whiskey in it. In honour of this, each recipe in the book includes alternatives to the alcohol, intended to preserve the flavour while leaving out the booze. Often, the instructions suggest swapping the spirit for a non-alcoholic variety (in this case, using Kentucky 74 zero-proof whiskey) but also increasing the fruit juice content, which would have made this one very sweet indeed. We stuck to the alcoholic variant.
Black Magic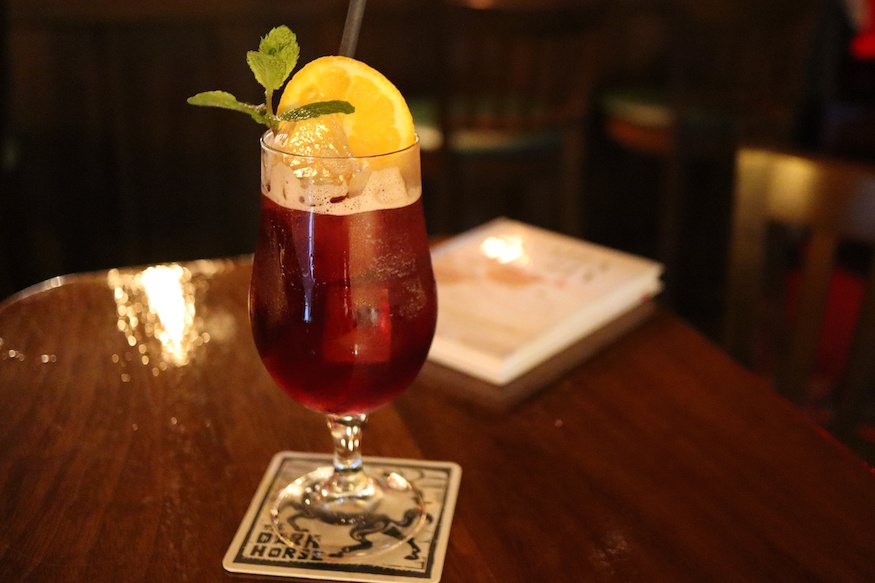 Inspired by our initial success, we plumped for another fruit recipe for our following sample. It also seemed relevant that the Black Magic cocktail is inspired by The Pale Horse, and we were in the Dark Horse. It's not a perfect match, but it's close enough. The book explains that in Christie's work, Mark Easterbrook visits the Pale Horse Inn to immerse himself in witchcraft and the use of love and death potions. Would this potion bring our taste test evening to a fatal end?
The Black Magic cocktail appears to share a common ancestor with sangria, being a red wine-based tall drink with fruit additions. Mullaney's recipe calls for red wine, Grand Marnier, pomegranate juice and winter spice syrup, with orange wheels and mint for garnish.
Many of the recipes in the book call for specific types of syrup. There is a four-page section at the start which explains how to make each type of syrup yourself, boiling water and sugar with common fruit or spice ingredients. The winter spice syrup is supposedly made with cinnamon, allspice berries, cloves and star anise. The Dark Horse didn't have such a syrup to hand or time to boil one from scratch, but Charlie realised he could substitute the bar's own spiced rum, giving it a similar flavour – and, we sense, an extra kick.
There's no serving suggestion in the book for Black Magic. Not all recipes have photographs, and this is one of the shorter descriptions, leaving the choice of glass up to the mixologist. Charlie went for a small, bulbous, schooner glass, slipping a straw between the garnish that loaded the top.
The result? Very much like sangria but with more body to it. The red wine dominated the flavour, but pleasant notes of pomegranate and spice followed closely behind. An uplifting mix of summer and winter, it was – like the Agatha Whiskey – another gulpable drink.
Mirror Crack'd From Side To Sidecar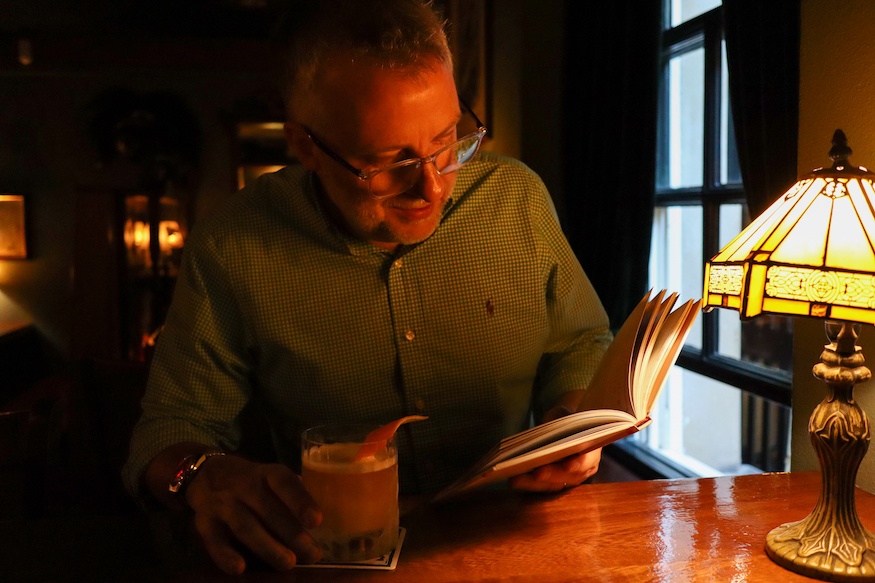 It's clear that the choice of cocktail came about in order to make the pun! In Miss Marple's ninth mystery, the poison is actually concealed in daiquiris. Mullaney reserves the daiquiri mixes for her Death On The Nile and Hickory Dickory Dock homages. Instead, we get a sidecar, another sour-style drink traditionally made with brandy and lemon (daiquiri is based on rum and lime and boasts more of a fruit profile overall).
The Mirror Crack'd sidecar recipe offers you a choice of VSOP cognac, Armagnac or a "good California brandy". Our mixologist, Charlie, opted for VSOP. The recipe also requires Grand Marnier, lemon juice and orange twists.
This recipe is very close to the classic sidecar, with the Grand Marnier perhaps providing a little more oomph than the traditional Cointreau. The serving suggestion in the book pictures the drink in a short rocks glass with ice, and that's what the Dark Horse delivered.
First, sniff and sip: the citrus hits you. Then, you're aware of the sourness and dryness of the booze. It's a little bitter after a couple of swallows, with the rounded brandy flavour quickly dominating.
Of all the cocktails we tested to this point, this had the most potent "alcohol" taste with less mediation from the fruit ingredients. It required careful sipping. In a traditional tumbler, this is a sophisticated after-dark drink, but not one you'd order in significant quantities on a night out. Charlie did a classy job, and the recipe is perfectly serviceable. Still, it feels generic – beyond the side-to-sidecar gag, it's unclear what makes this special for crime fans.
The mocktail variant suggests non-alcoholic brandy (like ArKay) and Lyre's Italian Orange, an Australian non-alcoholic aperitif, instead of the Grand Marnier.
Orient Espresso Martini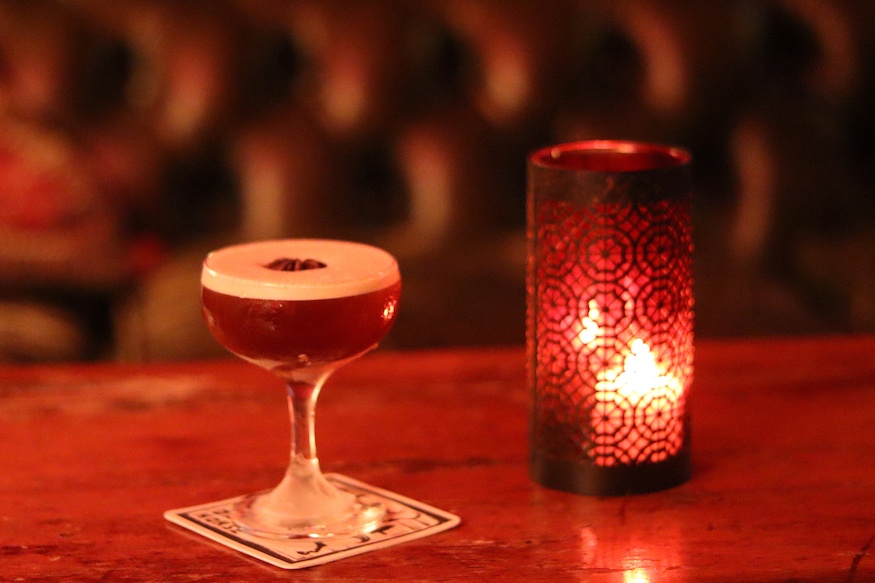 Another excellent pun. The last drink of our cosy cocktail testing evening was chosen for its different texture and ingredients from the previous three to ensure Charlie wasn't repeating himself. But Murder On The Orient Express doesn't feature a poisoning – nor was the victim "bludgeoned" (Mullaney's description in the recipe book), because Ratchett was stabbed multiple times. Oops.
Nevertheless, this is a warming cocktail to get you through the night on a train stuck in a snowdrift. The espresso martini is a staple, so what differentiates this one from the typical bar favourite? Primarily, it's down to the addition of star anise. Mullaney's version calls for vodka, Kahlua, espresso, simple syrup and star anise on top. The Dark Horse had that on hand and whipped one of these up in no time.
It's that secret ingredient which gave this one its kick. Served in a classic martini glass, we felt that the Orient Espresso Martini was something of "a coffee sandwich" – the liquorice flavour of the star anise up top and the four ounces of vodka down low, with the sweet coffee itself slipping down coolly in between. That familiar fennel-aniseed flavour from the star anise slowly grew to dominate as we drank, becoming the only thing we could taste by the last gulp.
It was the perfect finale to an evening at the bar but perhaps would have been even better as an after-dinner digestif. The recipe stands up, even if it's got very little to do with stabbings on trains.
Summary of evidence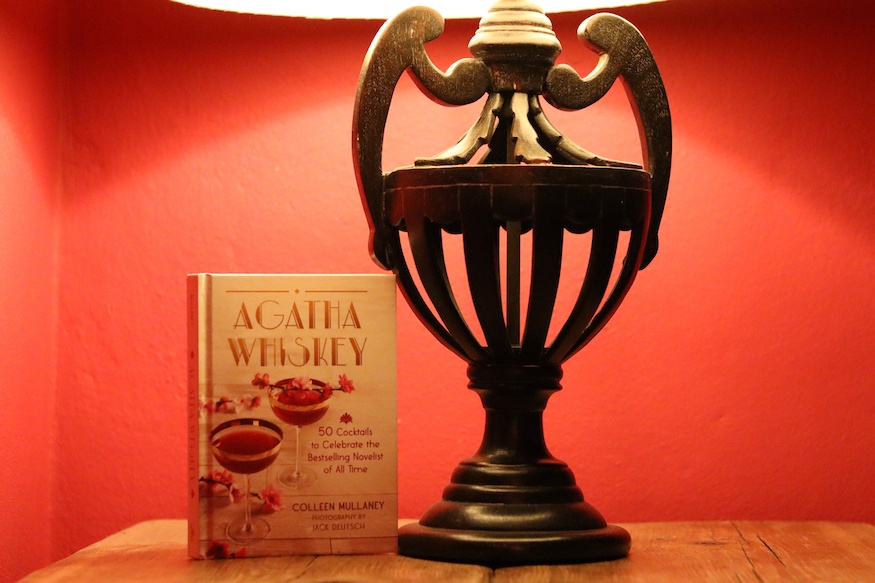 The book ends with a short quiz intended as a tongue-in-cheek drinking game but our livers couldn't take any more – certainly not all 50 cocktails. So we had to leave such joys as And Then There Were Negronis and A Pocket Full of Rosé on the page.
Other recipes include a Bloody Mary in the Library, a basic Bloody Mary with some additional paprika (that page also makes a couple of unnecessary Dirty Dancing references). One of the most exotic suggestions is the Murder at the Vicarage-themed cocktail, simply named The Confession, calling for sake, raspberry liqueur, limoncello, peach nectar and champagne.
There are a couple of oddities like that here. Believe it or not, cocktail bars will make you a drink with peas in it, but such drinks are uncommon. This book features one called A View from the Treehouse (inspired by Crooked House) that includes peas, along with tarragon syrup. In other respects, that one's basically a vodka martini, but putting peas and tarragon in it piqued our curiosity. It sounds oddly healthy. Meanwhile, Black Velvet Curtains is probably the easiest cocktail to make, inspired by The Mousetrap. It's just Guinness and champagne.
This is a minor grumble, given how delightful Agatha Whiskey is overall, but the Art Deco typeface makes page numbers vanishingly hard to read. While the recipes are bold and clear even in the low light of a speakeasy, anything written in the decorative font – like the titles and page numbers – is obscure, even under a lamp.
Nonetheless, this would make a fantastic gift or a prop for one of those themed murder mystery evenings. If nothing else, it serves as a handsome little cocktail recipe list with delicious suggestions based on bar favourites with a cute twist. Glossy photographs throughout the book are provided by Jack Deutsch.
Gratitude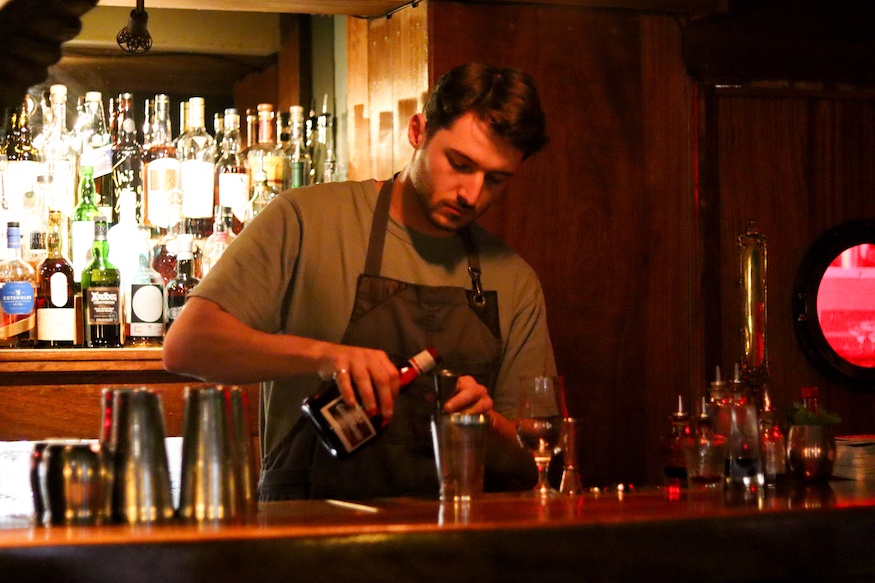 Thank you to the Dark Horse on Kingsmead Square in Bath for serving up cocktails from the book for us. This season, The Dark Horse's signature cocktails are named after characters and places from Jules Verne, so the literary thread continues there – try the Nautilus. The Dark Horse is open every day from 5 pm (4 pm at weekends) and is 10 minutes' walk from Bath Spa railway station. Angus, Will and Charlie took great care of us and have a copy of Agatha Whiskey behind the bar. Also, thanks to our photographer for this feature, Rhian Drinkwater.
Skyhorse
Print/Kindle
£14.99
CFL Rating: 4 Stars