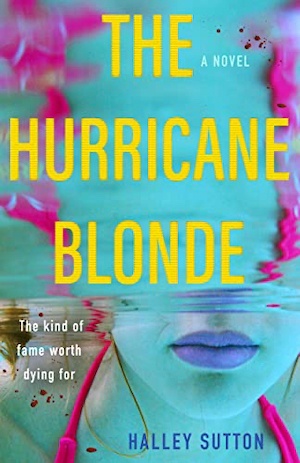 Salma Lowe is Hollywood Royalty. Or thought perhaps it would be more accurate to say that she comes from a bona fide Hollywood dynasty, but her own star has fallen somewhat. Salma's mother is the famous Vivienne Powell, film star and method acting guru. Vivienne met Salma's father, Dave Lowe, when the pair were starring in the blockbuster Iron Prayer, a role for which the heartthrob received his second Best Actor Oscar Nomination.
Their first child, Tawney – AKA the Hurricane Blonde – was a star in her own right. However, tragedy struck 20 years ago Tawney when was found dead by the pool at her Beverley Hills home, The Jacaranda House. Tawney's killer has never been caught, but Salma has always suspected Cal Turner, Tawney's ex-fiancé. Turner was an up and coming director at the time, famous for his genius and perfectionism, infamous for his mistreatment of actors. Cal had an alibi for Tawney's murder, one the cops couldn't crack. He was on set filming his next picture.
Salma, or Sloppy Sal as she was known to the tabloid press, was going off the rails before Tawney was murdered. She found fame as a child star in a TV comedy, Morty's House and was transitioning to the big screen. A toxic combination of having too much too soon, doubts about how she compared to Tawney, and the nagging worry that not everything was as happy as it should be in the Lowe household – Dave had a reputation as a notorious womaniser – led to too many parties, too much booze and drugs.
Now Salma works as a tour guide for Stars Six Feet Under, a company promising an insider's look at the side of Hollywood that the film business wants kept hidden. The last stop on this rather macabre tour is The Jacaranda House. This time, when Salma takes the party up to the pool there's a corpse in the water.
Salma can't help noticing how much the dead girl looks like Tawney. Through 24 hour news, Salma learns the dead girl was called Ankine Petrosyan, and she had been cast in Cal's latest movie as the lead. Two dead girls in Cal's orbit is too much of a coincidence for Salma to ignore, and when the cops rule Ankine's death an accident she can't stand idly by.
Melany, whose previous acting credits included playing a famous victim on the Stars Six Feet Under Tour, gets the role of Ankine's replacement. She lets slip to Salma that she'll be playing Tawney in biopic of her life, based on a warts and all exposé of the Lowe family by gossip columnist Cherry Partridge. Getting a job on set as a Family Accuracy Advisor gives Salma the chance to kill two birds with one stone – to protect the naïve Melany from Cal and to nail him for both murders.
Halley Sutton's debut, The Lady Upstairs, was one of my top picks for 2020, and I'm pleased to say her follow-up doesn't disappoint. Hurricane probably sits best inside the thriller genre. This is a story after all of one woman trying to catch her sister's killer, but there are also noir and psychological elements. In classic noir fashion, nobody is completely truthful, and everyone it seems has something that they're trying to hide. The Hollywood setting really works well in this regard as the stakes are so high, and careers can be over with one slip.
Sutton creates an atmosphere not so much of faded glamour, but of desperation and spoil. The actors, whether they're just starting out and hoping for their big break or seasoned pros with years at the top, seem prepared to accept any humiliation in order to be successful, and there's no shortage of men prepared to take advantage of them.
While there are plenty of twists and turns, some really quite dark, the author has concentrated on delivering a novel rich in character and theme. Salma has a lot going on; battling her alcoholism, her own view of herself as a failure and a disappointment to her mum, and her insistence on Cal's guilt. The novel has plenty to say, about how Hollywood in particular, and society in general, views women as disposable.
The book is angry, rightly so, but never a diatribe. A smart set-up coupled with an articulate dissection of Hollywood practice make The Hurricane Blonde a candidate for book of the year.
If Hollywood-based thrillers are you're thing, why not take a look at our revisit to Elmore Leonard's Get Shorty?
Allison & Busby
Print/Kindle
£6.99
CFL Rating: 5 Stars