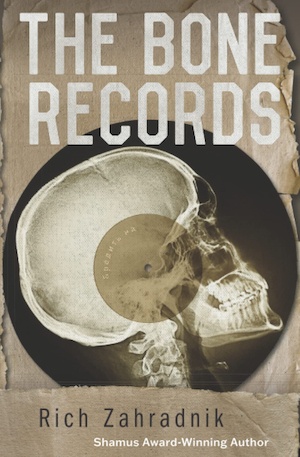 What's most fun about Rich Zahradnik's new crime thriller set in Brooklyn is the peek into worlds most of us haven't experienced first hand. It tells the story of Grigoriy 'Grigg' Orlov, a young man who washed out of the police academy when a racist attack by other cadets wrecked his knee and left him with a lot of pain and a limp. His father has been missing for five months, and Grigg is using his skills to try and find him.
As the story begins, Grigg cobbles together the time to search for his father between his daytime job working for the city, and a more intriguing evening gig at Coney Island's Conquistador Arcade. He has scoured his Coney Island neighbourhood and the Little Odessa portion of Brighton Beach, where Russian émigrés like his father gravitate. A high school teacher, his father was well known and liked. Surely, someone there must have an idea whom his father might have connected with or where he might have gone. So far, Grigg has no clues.
Grigg doesn't fit into the community the same way his father always has. Bad enough that he doesn't speak the language, there's also a racial divide. His mother, who died when he was a toddler, was from Jamaica. To the Russians, he will always be an outsider. The author' has a 's straightforward style of writing strongly conveys Grigg's anxieties and makes them seem well-founded. You feel his unease in social situations – with his boss, with the émigré community. He feels out of place, and you feel it too.
Late one night, Grigg is awakened by an intruder in the house. It's Dad! But hard on his heels is a man with a gun. The Orlovs try to escape but Grigg's father is mortally wounded. He leaves Grigg two things: his dying words, which are "Get to Katia. Katia Sokolov –"; and a strange black tube. Decades ago, Katia's father and Grigg's father left the Soviet Union together, and had been friends since childhood. Maybe Katia knows something, but her orbit is another place he doesn't seem to fit.
Once he and Katia unroll the tube, they discover it is a bootleg sound recording (and not a good one) of the old Buddy Holly song, 'Not Fade Away.' In the 1950s, when the Soviet Union was busily banning music and performers, rock n roll fans recorded blacklisted songs on discarded X rays and surreptitiously sold and traded them. They called them bone records. Author Zahradnik provides just enough background information about Soviet life to suggest what the two fathers' secrets might be. Very possibly, the past has reached out to snare his father, and maybe Grigg too.
The police showed little interest when Grigg's father disappeared; he doubts they'll snap into action when he meets with them the day after the murder. Not surprisingly, that 'day after' thing doesn't go down well with the detectives, and he blames the delay on feeling unsafe and on the shock.
He's convinced they're not going to investigate properly and in a well-worn staple of amateur detective fiction decides to do so himself, proceeding with a good heart but limited skill. The quest brings him into inevitable conflict with the Russian mafia, vicious crime lords who dominate Little Odessa. He is constantly running into new dangers, like a person on a carousel whirling faster and faster. And to get off is to die.
It isn't possible for a person to be asking pointed questions in a community like Little Odessa without drawing attention to himself. In the long run, Katia proves to be the only person he can trust. Grigg and Katia can never tell whether the people who say they want to help will turn out to be false or faithful. The plethora of unexpected betrayals and dangerous pursuers will keep you turning pages as quickly as that spinning carousel.
I enjoyed the story's Coney Island amusement park backdrop and the complex web of relationships in the local Russian émigré community. The neighbourhood comprises just a few square blocks in south Brooklyn, yet there are whole worlds there that give this thriller a distinctive flavour. The result is as much a rollercoaster ride for the reader as a turn on the Coney Island Cyclone.
Rich Zarahdnik is the author of the Coleridge Taylor mysteries, including Lights Out Summer, which won the Shamus Award from the Private Eye Writers of America in 2018.
Also see The Boy from Reactor 4 by Orest Stelmach.
1000 Words a Day Press
Print/Kindle
£4.99
CFL Rating: 4 Stars