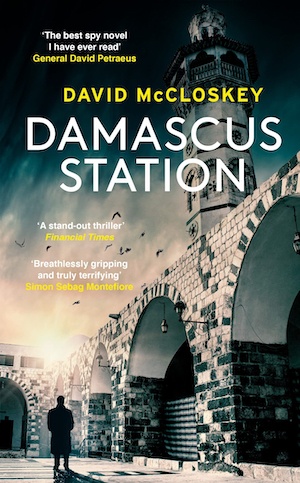 Fans of realistic spy fiction will enjoy David McCloskey's debut thriller Damascus Station, newly available in paperback in the UK. I listened to the audio version narrated by Andrew B Wehrlen and found it an utterly engaging tale. The story, in the early days of the Syrian uprising in 2011 and details the efforts of a CIA agent and his colleagues to infiltrate the multi-pronged security apparatus of Syrian president Bashar al-Assad. People present when the country's devastating civil war began and those with experience of intelligence work in the Middle East have praised how the book reflects the tradecraft, both operational and analytical, and its incisive portrayal of the bureaucracy and infighting that takes place within the CIA hierarchy. It's the real deal.
It begins as CIA case officer Sam Joseph visits Syria to help his colleague and long-time friend, Valerie Owens, exfiltrate an important Syrian asset. In an increasingly paranoid country, Assad's agents are everywhere, and the agent fears he's been identified. The panicky agent doesn't make his meeting with Joseph and Owens and their safe house is attacked. While Joseph escapes, Owens is arrested. Because she has diplomatic protection, she and Joseph believed she would be safe. Not so. Evidence eventually emerges of her torture and death.
If Joseph can return to Syria, he'll be able to avenge Owens's death so he takes on an assignment to find and recruit another Syrian who can help the Americans undermine the shaky Assad regime. Student rebellions and assassination campaigns by terrorist organisations are speeding that process. Plenty of ruthless bad guys lead Assad's security forces, including a pair of brothers, and their anxieties and rivalries and brutality create a situation as stable as a bowl of nitroglycerine in an earthquake. McCloskey makes Assad's henchmen strong and persuasive characters. Any candidate CIA recruit would have to be fearless or highly motivated to go up against them.
Reading this book, I couldn't help reflecting on the subsequent devastation that Syria's civil war wreaked on her people. The multiple opposing forces and brutal authorities are all here in this fictional version of the conflict's early days. Of course, this isn't history, it's fiction, but I feel like I understood the history a little better for having read it. The real-life political machinations of this confusing, multi-sided conflict make Damascus Station that much more compelling.
Joseph finds the kind of person he's looking for in Mariam Haddad, daughter of a commander in the Syrian army and niece of a colonel in Assad's chemical weapons program. Haddad works in Assad's Palace – effectively Assad's personal office. These connections put her in a position to learn secrets. The fact that Mariam's dear cousin, who is like a sister to her, is almost killed during a student anti-government demonstration has contributed to her rethinking her responsibilities. As a result, she has become more vulnerable to Joseph's outreach. McCloskey creates a nice balance between Mariam's fear and self-doubt, on one hand, and her determination to bring down the evil men leading the security forces, on the other.
It's almost a cliché that Joseph and Haddad break one of the iron rules of espionage and fall in love. Of course, this makes it even more dangerous for her if she is compromised and greatly raises the stakes for keeping her safe. Joseph is at greater risk too. The Agency would clamp down hard on him if it learned of the affair. It could even be career-ending. Yet, McCloskey manages to keep their relationship real. The tension keeps building as Haddad's assignments become more dangerous and complex, and as evidence accumulates about an unthinkably deadly plot. You get a break when the action occasionally moves from Damascus to lovingly described France…
David McCloskey is a former CIA analyst whose writing bears the stamp of authenticity, and the book has received much praise by former Agency personnel. It was a finalist for the International Thriller Writers' Best First Novel Award in 2022. Narrator Andrew Wehrlen is described as having a strong, friendly and confident voice, and he uses it to make Sam Joseph a convincing American character. At the same time, he manages to create distinctive voices for the many Syrian characters as well.
Also see our Complete Guide to Mick Herron's Slough House series.
Swift Press
Audiobook/Print/Kindle
£6.64
CFL Rating: 5 Stars