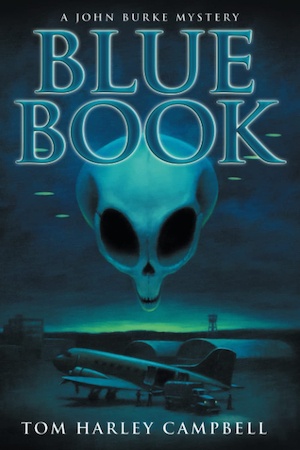 In the middle-American city of Dayton, Ohio, retired homicide detective John Burke isn't wildly happy about the reduced pace of his life, but in this quick-moving new thriller by Tom Harley Campbell, that is about to change.
Unbeknownst to Burke, trouble – and a fascinating mystery – are headed straight toward him, all the way from Hattiesburg, Mississippi. The engineer of this change is 18-year-old Alex Johnson, who's arrived by bus with the sole purpose of meeting Burke. At the police station, the kid learns Burke no longer works there, but he won't talk to anyone else. The situation being what it is, and curiosity being what it is, a call is made, and the retired detective appears. The kid looks vaguely familiar. He's the son of Michael Johnson, a Mississippi cop whose body was found in Dayton's Mad River four years earlier. Not solving that case has haunted Burke ever since. Now Alex provides a tantalising clue.
A news story that might seem totally unrelated starts another pot stirring. Al-Jazeera reports its investigation concluding that Yasser Arafat died from polonium210 poisoning, creating ripples in tiny corners of both Hattiesburg and 750 miles north, in Dayton.
One person interested in this story is history professor Charles Robinson, a paraplegic who lives alone in Hattiesburg. He's haunted by the mysterious 2004 death of his father, retired air force man Henry Robinson. Charles believes his father too was poisoned by polonium210 and wrote to his father's friend Martin Novak about the possibility. Novak, a nuclear chemistry professor living in Dayton and retired from the Air Force Institute of Technology, also saw the Al-Jazeera story and immediately thought about Robinson.
After World War II, Henry Robinson worked on Project Blue Book, analysing information about UFOs to determine whether they threatened national security. While Henry was sifting evidence, the Air Force, the military, and the CIA conducted an unrelenting public information campaign to discredit UFO reports and depict the believers as tin-foil-hat-wearing kooks. His son Charles knows nothing about this, though.
Whether or not you're convinced about the existence of UFOs, you will understand that, in tricky situations, it's always the cover-up that presents the greatest difficulties. The more extreme the effort to hide something, the more important it's likely to be. Although Project Blue Book supposedly closed in the late 1960s, its work and conclusions are still super-secret. As John Burke probes the death of Alex's father, meets Charles Robinson in Hattiesburg and hears his suspicions about his father's death, the campaign to cover up Project Blue Book seems to threaten all of them.
If you think the CIA doesn't normally operate on home turf, you may find it an unexpected actor in this drama. But UFOs – now called Unidentified Aerial Phenomena – are a special category, apparently. And, if you divide the world into domestic and foreign, it's hard to think of a more foreign influence and potential enemy than one from interstellar space. So the assignment makes an odd kind of sense, plus taking advantage of the CIA's habits of secrecy.
John Burke is an exceedingly likeable character. He may be retired, but don't sell him short. It's refreshing to read about a police department where the first line of defense is common sense, rather than the nuclear option. There's a complex plot here, as befits a story with so many deep secrets, and while Burke may be willing to operate on a common-sense basis, some of the CIA hirelings have their own, rather different modus operandi.
Author Campbell effectively conveys the intimate feel of Dayton, a relatively small dog wagged by the big tail of the defense, aerospace, and aviation industries. You get a strong sense of the dynamics of a community shaped by such a huge, secretive presence as Wright-Patterson Air Force Base, with its detachments of Air Force, Space Force, Marine Corps, Navy and Defense Department personnel. A local police department can't help but feel that a giant is constantly hovering over its shoulder. And that giant, Burke learns, isn't always friendly.
There's just enough science in here to make the story interesting and give it plausibility, without weighing it down. Campbell does an especially good job interleaving actual events with his fictional tale. It's a wild ride, and a fun one!
Also see Mr Mercedes by Stephen King.
Cayuga Street Press
Print/Kindle
£15.85
CFL Rating: 4 Stars