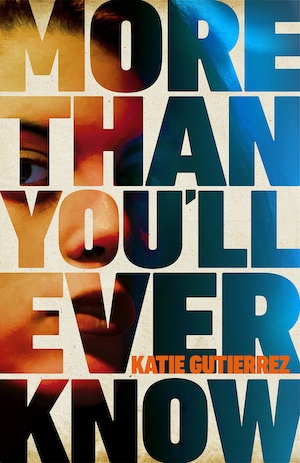 Katie Gutierrez's debut novel is a story of family, secrets, trauma and the complexity of relationships, told through the eyes of two women – Dolores Rivera and Cassie Bowman.
Cassie is an aspiring true crime writer, but for the moment she earns her money by blogging part-time for H20, a television network making low-budget romance movies and true crime programmes. For $13 an hour Cassie scours the web for interesting, usually gruesome, murder stories. When she reads the story of Dolores Rivera, who for years was married to two men, she sees the chance to land her big break – a lucrative book deal or a New Yorker feature, maybe.
Cassie's timeline is set in 2017, but we shift back to 1983 where Dolores – AKA Lore – is a successful 32-year-old banker in Laredo, Texas. She's married to Fabian and is the mother of Gabriel and Mateo. Lore and Fabian are, for the most part, happily married. They've known each other since their late teens, but Fabian isn't quite the same man she fell in love with.
These days all he talks about is the recession, peso devaluation and having to lay off staff. If the economy continues its downward spiral, Lore might soon be the only breadwinner of the family. In a traditional Mexican household, men are expected to be the providers and Lore goes against the grain, full of ambition, wanting to be more than a wife or mother. Having her kids, Lore felt she lost her identity and now doesn't recognise the woman she's become.
Lore is desperate to escape, longing for experiences she hasn't tasted yet. While in Mexico City for business she realises that no-one knows her. She could be or become anyone. At the wedding of a client's daughter she meets Andres. With her wedding ring locked in the hotel safe, Andres assumes she's not married and Lore doesn't correct him. In a single moment her life changes and she sets off on an irreversible path. For the next few years Lore leads a double life, commuting between Laredo and Mexico City, between two husbands and two families.
All that is shattered when Andres travels to Laredo to find Lore and ends up dead in a hotel.
Cassie also keeps secrets – from her fiancé. Duke comes from a large, happy, wholesome family – everything Cassie's family never was. With their warmth and hospitality she's made to feel welcome, like she belongs. Duke wholeheartedly supports Cassie's work and her interest in true crime, but her obsession is becoming a threat to their relationship.
Her fascination with double lives stems from a childhood watching Dateline. It was a safe way to explore and try to understand a dangerous world. Now true crime is Cassie's way of making sense of the past. Cassie's father physically abused her mother, but it was kept a secret to such an extent that she began doubting it even happened.
Cassie contacts Lore and they become close. Lore is like the mother she lost as a child. But can Lore be trusted? Cassie's mother, a teacher, told her that history is written by those who have power. When you read it you have to ask yourself who is telling the story and what they gain by you believing it. Lore tries to manipulate Cassie into writing what she wants by using her family history of violence to gain sympathy. With first person narratives, alternating between the two women, as a reader you are left to piece the real story together, bit by bit.
More Than You'll Ever Know was inspired by a story Katie Gutierrez read about a man who led a double life for 30 years. Relationship fraud is generally a male crime with women as the target. This new Texan author wanted to flip the stereotype, especially since women are often compelled to compartmentalise themselves.
The crime this novel focuses on isn't the murder of Andres Russo. That takes a back seat to the larger, more perplexing issue of Lore's bigamy. The story highlights how easily and effortlessly a relatively small lie can escalate to something as unfathomable as a double life. If there's one thing true crime stories confirm, it's that anyone is capable of violence in certain circumstances.
True crime lovers will adore More Than You'll Ever Know, as will anyone who enjoys a slow-burning story which touches on themes of motherhood, relationships and that precarious tipping point when violence erupts. Cleverly constructed with beautiful turns of phrase and a strong sense of place, Katie Gutierrez's debut will draw you in as easily as any true crime podcast worth its salt.
For more fiction inspired by true crime see True Crime Story by Joseph Knox and Chasing the Boogeyman by Richard Chizmar.
Michael Joseph
Print/Kindle/iBook
£7.99
CFL Rating: 5 Stars