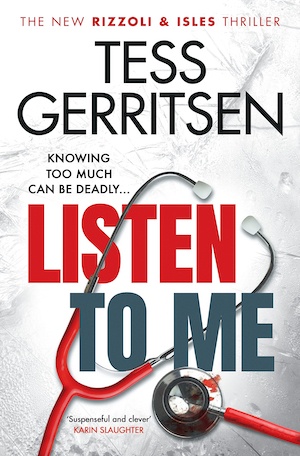 The popular Boston Police Department duo detective Jane Rizzoli and forensic pathologist Maura Isles return in their 13th crime thriller, Listen to Me. It's been five years since the previous novel in the series, I Know a Secret. There was also a TV series based on the books, which ran from 2010 to 2016. In the latest story, the two investigators probe into the brutal murder of nurse Sofia Suarez but must also deal with the antics of Jane's mother Angela, which brings a new dimension to the series.
Busybody Angela is a one-woman Neighbourhood Watch and a repeat caller to the suburban Revere police department regarding the suspected shenanigans of her neighbours. Strange cars in the neighbourhood are another excuse for calls, which are not only a nuisance – ruffling interdepartmental feathers that her daughter Jane has to try to smooth – but you can't help thinking this behaviour will come back to hurt Angela in some unexpected way.
Maybe she is indeed onto something. Or not. Perhaps she's cried wolf too many times and if a real threat emerges the police will ignore it, or at least be slow to respond. All you can be sure of is that Jane is fast running out of patience with her.
The investigation into Suarez's death moves forward at a snail's pace. Unfortunately, there isn't much to go on. The woman was well-respected and genuinely liked by her neighbours and work colleagues at the Pilgrim Hospital Surgical Intensive Care Unit. Nothing in those relationships suggests any animosity toward her. In fact, Rizzoli and her partner Barry Frost can't find any evidence that would point them towards a motive or suspect.
Unexpectedly, their best lead comes from Jamal Bird, an African-American teenager living on Suarez's block who helped set up her electronics. Rizzoli and Frost talk to him under the watchful eye of his mother, who is suspicious of any police officers wanting to question her son. Suarez's cell phone and laptop are missing. Finding them, or otherwise getting at their records, may hold some actionable information. The first interesting thing Jamal tells them is that Suarez bought the computer for some kind of research. They can't help wondering whether what she was looking into is what put her in the sights of a killer.
Through a casual conversation with Mike Antrim, director of Suarez's ICU, Rizzoli and Frost discover that Isles is a talented pianist and a key participant in a group of classical-music-playing doctors. They have an upcoming concert where she's the soloist. The detectives are a bit miffed that Isles has kept this talent to herself, and although Isles is modest about her abilities, at home alone, she's diligently practising. Her personal life, including her long-running affair with a priest, make her an interesting character with unexpected dimensions. On the whole, however, there isn't much of Isles in the story, probably in part because of the larger role played by Angela Rizzoli.
Some chapters are told from the point of view of Amy Antrim, daughter of the ICU director, who was badly injured in a hit-and-run accident a few months before the story begins. She spent time in her father's ICU and, like everyone else, was a fan of nurse Suarez. Amy's perspective highlights a subtheme of the book, which is the tricky nature of mother-daughter relationships. The younger generation's behaviour is what usually creates dilemmas, but in three situations in this book, it's the reverse. Rizzoli ignoring her mother's apprehensions about the neighbors, a mother's behavior that prompts her daughter to run away, and Amy's mysterious relationship with her devoted mom.
Ultimately, the plot seems a bit of a stretch. However, fans of these characters will glide past that issue, enjoying seeing them in action again. Perhaps because Tess Gerritsen has written about the Boston area so many times, she glosses over some of the general description of the area. If you're new to the series you might miss a sense of place. Still, you get a clear picture of Angela Rizzoli's long-time neighbourhood and her neighbours, who are full of surprises.
Most books in this series put more emphasis on the police procedural and forensic aspects of an investigation, whereas this book, in devoting so much real estate to Angela's meddling, has less room to develop those details. It's a little difficult to accept that someone who is both the girlfriend and mother of accomplished police detectives could be so oblivious to the possible bad outcomes she courts, and this part of the story didn't engage me at all.
Read our interview with Tess Gerritsen here.
Bantam Press
Print/Kindle/iBook
£9.99
CFL Rating: 3 Stars