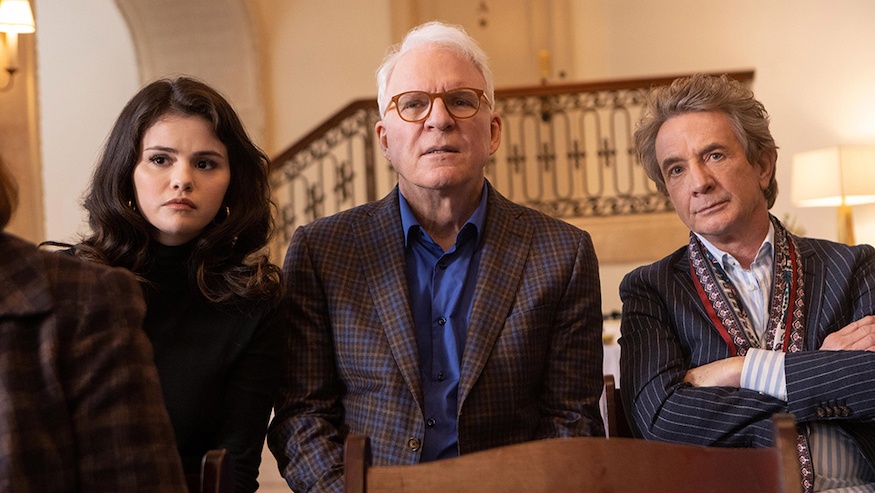 "Only Murders in the Building? What?"
That was our reaction too, when we first heard about this crime show which is available on Disney Plus in the UK and on Hulu in the US. So let us explain. A man has died in suspicious circumstances in a New York apartment block. The three main characters, played by Selena Gomez, Martin Short and Steve Martin, collaborate on solving the crime under the agreement that they only work on murders in the building.
Once you get past the name, Only Murders in the Building will get its hooks into you and reel you in. The humour is clever and quirky, the characters are flawed yet fun, the plot is pacy and dynamic, while the acting is phenomenal. Oh, and at its heart is an old school murder mystery juxtaposed with a very modern, social media-driven method of investigation.
That's because Only Murders in the Building is also the title of the podcast in which Charles-Haden Savage (Steve Martin), Oliver Putnam (Martin Short) and Mabel Mora (Selina Gomez) document their investigation into the case of Tim Kono – a financier shot through the head in his apartment, leaving residents in the Arconia in shock. For a little while, at least. After all, this is New York City and Arconia residents seem to be more sentimental about fluffy cats and lap dogs. Nobody liked Tim Kono.
A true crime podcast is something our three protagonists need in their lives. Although they live comfortably in the Upper West Side of Manhattan, all three are missing something. Charles, for example, is a washed up former TV star whose only memorable role was Brazzos – a Kojak-like detective series that everyone he bumps into almost remembers. Having played a detective, he thinks he knows a bit about police procedure but years of living alone have made him a loner who finds it hard to connect with others.
Oliver, on the other hand, is outgoing and personable, full of charm and chutzpah. Every story he tells begins with, "Well, I'd had a few cocktails, and…" A former Broadway director, he believes his role is to bring drama to the podcast as its producer. Fair play – he does find a sponsor for it, but is the money he brings in going to fund the show or help him get out of the huge financial hole he's dug himself into over the years?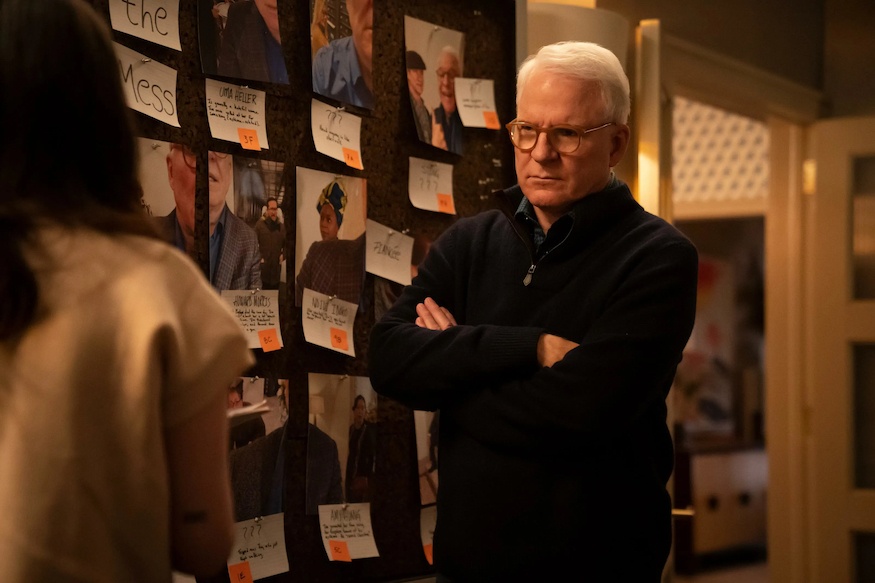 Then there's Mabel. She's a temporary resident of the Arconia who is redecorating her aunt's apartment but also spent part of her childhood there. Her past is a bit darker and, unbeknownst to Charles and Oliver, she was friends with Tim Kono years ago when they would solve crimes in the building à la The Hardy Boys.
There's an electricity between these three oddballs that sparks through the dialogue. You'll watch in bemusement as the bond strengthens between them, and that freshly-forged trust is tested by each new event and revelation. Boomers Charles and Oliver occasionally talk down to millennial Mabel, who in turn cuts them down with her sharp wit. Yet at other times she almost mothers them. For example, she pushes Charles out of his comfort zone by encouraging him to go on a date. The shared journey of the characters makes it much more than a mystery show.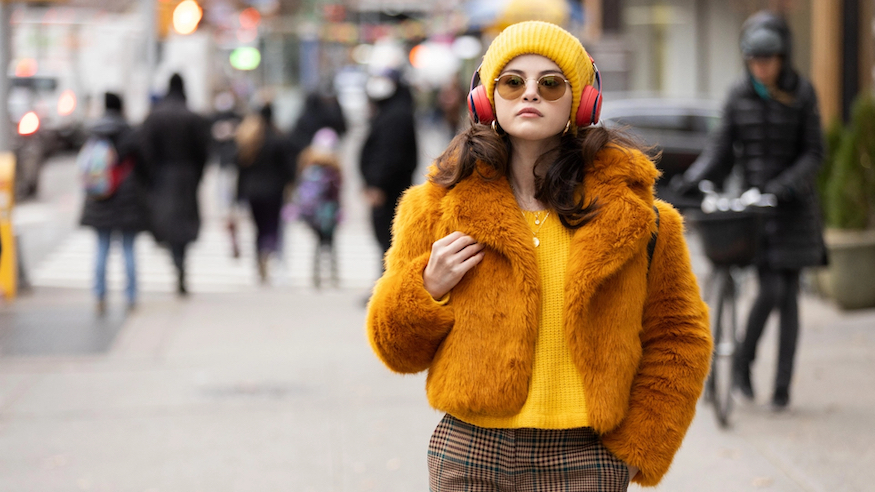 If there's a criticism to be made, it's that the crime element is overshadowed by the show's other plus points. But it is there and in some ways Only Murders in the Building is also a dissection of how murder investigations are presented on television and in books. The police have ruled Kono's death a suicide, so there's always a sense that the investigation is a little bit clandestine. Mabel, Charles and Oliver frequently strategise over how to proceed and some of their logic is, well, less than logical. There's a sublime scene in which they deliver a cooked turkey to Sting's apartment to get through the door, and then more or less accuse him of murder. Yes, Sting lives in the Arconia! In an earlier episode Oliver tells his dog not to stand so close to the singer.
The true crime approach and the podcast format have appeared in crime fiction in some innovative ways in the past few years. Matt Wesolowski's Six Stories series is one example, and Joseph Knox's True Crime Story is another. There's a hint of it in the conceit behind True Detective and in Fargo too, which always claims to be retelling events as they happened. But nothing does it in quite so humorous a fashion as Only Murders in the Building. Fargo is probably the closest, with its off-beat situational humour, however Only Murders in the Building is lighter, quicker and quirkier, and it's set in New York rather than the lonesome frozen wastes of Minnesota.
That setting is another major attraction for us. If you love walking around Manhattan and discovering all its hidden away delis and gonzo characters, Only Murders in the Building is the show for you. There are 10 episodes of varying length and – great news – there's going to be a second series…