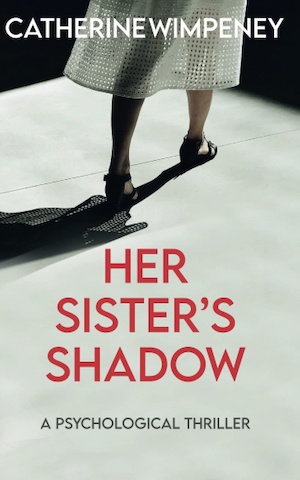 Catherine Wimpeney's debut thriller draws on her experiences and insights as a psychotherapist to create a nuanced portrait of a woman with profound and initially unappreciated mental health challenges.
Kay is a senior investigating officer in the Manchester police who is a bit uneasy with her partner, DI Matt Anderson, whom she believes is too ambitious (wants her job), and with their commanding officer, Barbara Dean (may give it to him). Granted, Kay seems more than a bit paranoid when she sees Matt and Barbara talking with each other. But she's been in a shaky mental state since her older sister Helen's suicide.
About ten months earlier, Helen jumped to her death from a parking structure. Kay, unfortunately, was in the area and was among the responding officers before the body was identified and before her colleagues could warn her away. Helen had suffered from depression for many years, but Kay never anticipated she'd do this.
Kay has missed a number of appointments with the therapist her department hoped would get her back on track. That, combined with Kay's current somewhat erratic mental state, convinces Barbara to require that she take some time off.
Since childhood, Kay's mental health has also been put to the test. Then, she was 'afraid of what would happen next' and she's never completely outgrown that feeling. In spite of this, she chose a career in police work, when what happens next can be pretty awful. She copes with too much alcohol and binge-eating. Helen was never very nice to Kay. They weren't close as children and in later years Helen turned out to be a distant wife and mother. The fact that Helen's now 20-something daughter Ellie has bonded so strongly with Aunty Kay was an additional source of friction between the sisters. Kay knows she played a role in Helen's troubled psychiatric history, which contributes to her grief and guilt over Helen's death.
Fate seems to play a cruel trick on Kay when she spots another woman at the top of a multi-storey carpark, looking as if she's prepared to jump. Without thinking, without calling for backup, she rushes to the woman's aid. If she couldn't save her sister, perhaps she can save this woman. The woman's name is Ava, and Kay finally talks her down. Ava reveals she's being tormented by her ex-husband, Adrian McGrath, a wealthy property developer. She is terrified he or the men he has following her will find her.
To Kay's surprise, she knows McGrath. In fact, she holds him partly responsible for the torture death of a young boy. He provided the perpetrator – a man named Brunswick – with a fake alibi, allowing him to evade prosecution. In her words, he's "…the man who made it possible for Brunswick to be free to murder a child." Ava doesn't have to convince her he's a dangerous adversary.
Kay planned to pursue her mental health recovery in Scotland at a vacation house in her family for generations. Quiet. Fabulous views. Now, she invites Ava to join her. No one will have a clue that's where she's hiding.
Author Catherine Wimpeney delves into a lot of backstory, not just about Kay but Adrian too, and I'm not sure all of it is necessary as it slows down the story in the here-and-now. She made a good choice in telling most of the story in first-person, with Kay narrating. You get a strong sense of her perspective, which makes the book work. A few chapters take the points of view of Adrian, Kay's colleague Matt, and others. A great many of these chapters are extremely short, almost too much so, making the book feel choppy.
When Kay finds Helen's journal in the vacation house and begins to read, her mental state is stressed almost beyond endurance. Having Ava as a project lets her put some of her energies into investigating Adrian, not that Ava has asked her to. Meanwhile, she's fearful of the dogged investigative journalist who seems to be after something. No one is sure exactly what.
In a nutshell, the pressure on Kay continues to mount – protecting Ava, salvaging her career, repairing relationships, dealing with Adrian, heading off the reporter.
Her Sister's Shadow is unquestionably a psychological thriller, and you may conclude it emphasises the psychological at the expense of the thriller. Yet, the unpredictable consequences of Kay's mental state will keep the pages turning.
If you like the sound of this, try The Heights by Louise Candlish or Primary Obsessions by Charles Demers.
Northodox Press
Print/Kindle
£2.84
CFL Rating: 3 Stars