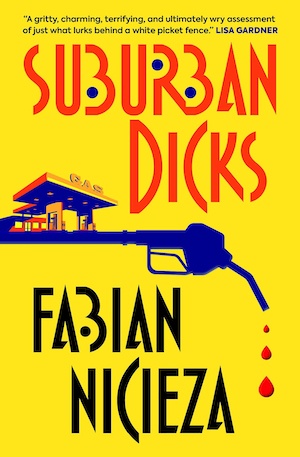 Authors are often told to make the setting of their novel like another character, and certainly the books that nail the sounds, smells, look and feel of a place add to the realism of a story. This debut crime novel involving two quasi-amateur detectives takes place not somewhere I've been, but where I live. Every gas station, restaurant and road are things I see several times a week. So that feeling of being able to visualise the place? This was its epitome.
Early one weekday morning, massively pregnant Andrea Stern screeches into a gas station and emerges from her minivan carrying a toddler desperate for a pee. With the mom-urgency of the situation and the distraction of four wailing children inside the vehicle, she's overlooked the parked police cruiser and the two officers standing around uncertainly. Nor does she initially see the body of the station attendant sprawled next to a pump, a gunshot to the head.
The female officer won't unlock the restroom for her because it's a crime scene but Andrea, who trained to be an FBI behavioural analyst 4.75 kids ago, instantly sees the two young patrol officers have already hopelessly compromised the scene. Held at arms' length by her mother, the little girl gives in to the inevitable and lets loose. So much for preserving evidence. In those moments, waiting for her daughter, Andrea looks around and gleans more about the crime than the patrol officers have. She squeezes back into the minivan, with difficulty, and speeds away before the detectives arrive and have lots of questions.
Andrea is famous for solving a difficult serial murder case in New York. She gave up that work, to her lasting regret, to become a suburban mom. She loves her kids but doesn't romanticise motherhood. Her wry comments about the job are ones any honest parent can identify with. Later the day of the murder, in talking with several Indian women at the community pool, Andrea has an idea and is determined to investigate.
Disgraced journalist Kenneth Lee arrives at the crime scene to get the story – the first murder in West Windsor Township in decades. He once won a Pulitzer Prize, but made several serious judgement errors that have moved him down the reportorial food chain, and he now scrapes by writing for a local weekly newspaper. He picks up a bit of gossip that drugs were involved in the murder (buying? selling?), and tries to run with it, but gets stonewalled by the police chief and denials from the Indian family that owns the gas station. The victim was their nephew. There's more to it, he senses, if he could only figure it out. This story excites him as nothing has in years, and he's determined to investigate.
Andrea and Kenny meet up on the steps of the police station. They knew each other in school, but lost touch. While their motives and approaches are vastly different, they have one belief in common: the police are lying. But why? What are they hiding? The two develop a hunch of Andrea's that leads them to real evidence of another brutal murder, one that township officials have spent decades covering up.
New author Fabian Nicieza does an admirable job describing the social dynamics of this multicultural area of New Jersey. A few of the white residents' ancestors farmed for generations, their land now turned over to housing developments for commuters – mainly Indian and Chinese families. The original residents have seen a lot of social change and not everyone accepts it.
The story's told with great good humour, sometimes at the expense of one group or another. In the acknowledgements Nicieza thanks his multicultural reading group 'for providing their thoughts on the cultural portrayals contained in the book and their understanding that its intent was to be an equal opportunity mocker.' And he does an excellent job portraying the kids, who are never cloying.
Born in Buenos Aires, Nicieza grew up in New York City for a time before his family moved to New Jersey. For decades he wrote and produced all of the advertising for Marvel Comics, then edited them and out of hours wrote the X-Men series, among others. He co-created the character Deadpool, who has appeared in several Marvel films. Since he left Marvel, he's done comic book work for almost all the major companies. This is his first novel and one you may find supremely entertaining.
Another comic book writer who has turned to crime is Robbie Morrison. Try Edge of the Grave. Like Suburban Dicks the setting is where the author grew up.
Titan Books
Print, Kindle
£6.02
CFL Rating: 5 Stars