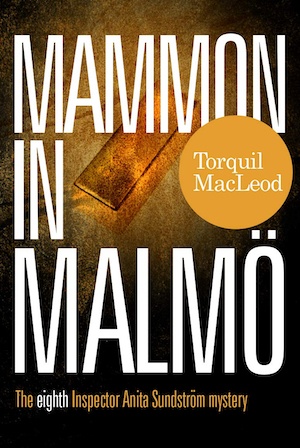 Ex-police detective Anita Sundström is back in the eighth of Torquil MacLeod's Malmö Mysteries series. It's been a year since Anita resigned from the Skåne County Police and her current job at the Malmö's tourism office lacks the excitement she thrived on as a police investigator and a decent salary.
When she is approached by Magda Forsell, a dying, elderly woman to track down a collection of paintings stolen from her family by the Nazis in 1944, Anita isn't convinced that she's be able to assist. However, the compensation is generous and she needs the money.
Meanwhile Anita's former colleagues at the Criminal Investigation Squad are called out to investigate the suspicious death of a local private detective. Sven Haglund – AKA The Ferret – has found strangled to death in his office. True to his nickname Haglund specialised in digging up the dirt on cheating spouses, earning himself a string of enemies. During one of his investigations involving Niclas Almqvist, a member of a wealthy, old Swedish family with dubious right-wing affiliations, he unearthed potentially dangerous information that he was about to take to the authorities.
When another victim is found strangled to death and the killer leaves behind a threatening message, a pattern emerges indicating that there might have been more to Haglund's murder than a revenge killing. Hannah Roth, an assistant at an optician's practice was of Jewish decent. She was also known to Anita Sundström. This was the practice that Anita visited on a regular basis and it was Hannah who referred Magda Forsell to Anita. Hannah and Magda attended the same synagogue and were part of the same Jewish community.
With new police commissioner Theo Falk at the helm, the squad digs deeper into Haglund's past only they find that he too was of Jewish decent and changed his name from Isak Czapnik when he was 18. Kalle Birgersson, the husband of another of Haglund's clients, blamed him for the suicide of his mistress and is part of the alt-right, Neo-Nazi scene. The question arises whether the murders could be hate crimes, but among the multitude of suspects who is the murderer?
While the team tries to tie the loose ends together, Anita heads to Budapest following up on leads as to where Magda's family's paintings might be. Although the two investigations in Manmon in Malmö are separate they inevitably cross paths and Anita must cooperate with her former team. When she left the police force she did make one enemy, Chief Inspector Alice Zetterberg. The clash of the two women's personalities played a substantial role in Anita's decision to quit the police. Zetterberg distrusted Anita and unscrupulously took credit for others' work. Anita's involvement in exposing senior members of the police force was considered meddling. In the end she was fed-up with internal politics and lost faith in the system – it was no longer the police force she joined to make a difference. Fortunately she still has her ex-colleague Hakim Mirza and Theo Falk on her side and they frequently compare notes on their cases. Overlapping characters in the two storylines sharing information makes it somewhat challenging to keep track of who was told what and who is supposed to know what.
During her investigation Anita meets Professor Max Berg, a historian and expert in Nazi history. Her long distance relationship with Kevin, who lives in England, has started to wane and the charismatic Max charms his way into her life. Max is also the mastermind behind the Liberty Conference, an event with a human rights focus and which an important group of dignitaries, including the Swedish Prime Minster and the Israeli Foreign Minister, will attend. The timing of the conference with an antisemitic murderer on the loose and the emergence of a new alt-right movement couldn't be worse.
As you might have noticed, the novel has an expansive group of characters which makes it difficult to keep track of who fits where. Those mentioned here make up only about half the characters and there are multiple breadcrumb trails to blindside the reader – which is fine if done in moderation.
Mammon in Malmö is packed with information on events surrounding the Second World War – Nazis, Hitler, Göring and antisemitism all form part of the storyline about the stolen paintings. Large chunks of historic detail and references make for interesting reading, but it also interrupts the momentum of the plot too frequently and often for too long. Extensive research must have gone into this historically orientated book, but it tends to overwhelm rather than support the main storyline. The novel also touches on the crisis in Palestine and climate change. Magda, who was an ex-meteorologist expresses her concern, mentioning that she hopes Greta Thunberg and her generation will be able to change the course of global warming. Of course crime fiction should reflect the times we live in, as long as the topic forms part of the story in an organic way.
It's no surprise that this is a popular series and not having read any of the previous ones, I'd be interested to learn more about Anita Sundström's character – here there were too many distractions. In its entirety Mammon in Malmö is a good, solid and even stimulating read for both history buffs and crime junkies.
Also see the works of Will Dean, Quentin Bates and Michael Ridpath – British authors like Torquil MacLeod who set their books in the Nordic countries.
McNidder & Grace
Print/Kindle/iBook
£9.99
CFL Rating: 3 Stars