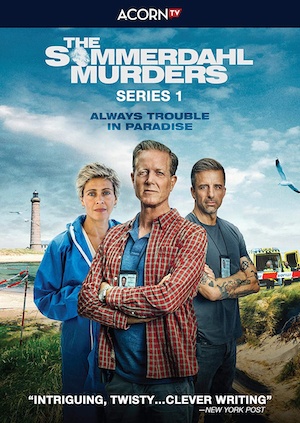 US-based fans of Nordic noir might be celebrating Christmas early this year. That's because on 8 December, Acorn TV is releasing The Sommerdahl Murders on DVD, and on the company's streaming channel.
This popular Danish crime drama centres on Dan Sommerdahl, played by Peter Mygind. Based in the seaside town of Helsingør, Dan focusses so much on his cases that it puts a strain on his marriage to Marianne (Laura Drasbaek), who is also chief crime scene technician with the police. Throw Dan's partner, DS Flemming Torp (André Babikian) into the mix – he secretly loves Marianne – and Helsingør's crime solving team becomes a bizarre love triangle.
Their cases are equally complex, beginning with the search for a newborn baby whose mother was found dead on the beach. They also investigate a lottery winner who has been the victim of a marriage scam, a dead playboy whose accountant is missing too, and a suspicious death and missing money at the local football club.
The DVD features eight episodes, each with its own mystery, set in Eastern Denmark on the northern Øresund Strait. The stories are based on the Dan Sommerdahl books by Anna Grue, which have sold over 750,000 copies. They are yet to be translated into English, so The Sommerdahl Murders television programme is currently the only way to enjoy them in the US.