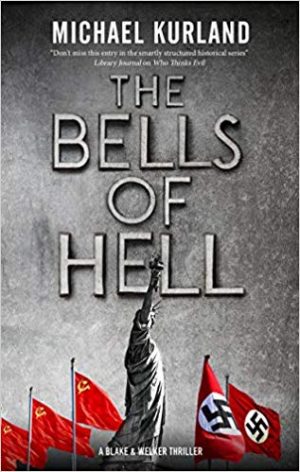 Written by Michael Kurland — If you fondly remember Nick and Nora Charles in The Thin Man as a refreshingly witty corrective for 21st century gloom-and-doom, then Michael Kurland's The Bells of Hell may be just the book for you. There are dark deeds afoot by Nazis and Communists in the late 1930s, but the main characters in this historical thriller are plunging into these events with their equilibrium and senses of humour intact.
Lord Geoffrey Saboy is a British cultural attache – that is, a spy in the British Secret Service – working in Washington DC along with his wife, Lady Patricia. Lord Geoffrey is gay so although the couple is close he doesn't begrudge his wife her amorous dalliances, some of which are for pleasure and some in service to her own approach to sleuthing. The pair meet up with US counter-intelligence agent Jacob Welker who has the ear of President Roosevelt, which occasionally comes in very handy.
In March 1938, a Communist agent from Germany, masquerading as a salesman of mechanical toys, arrives in New York. A pair of FBI agents tries to intercept him on the docks but they miss him. Soon the German is found naked, tied to a chair in an empty warehouse, tortured to death. Unbeknownst to his killers – the fake FBI agents who tried to grab him at the docks, who in reality are members of the Gestapo – there was a reluctant witness to this execution. Andrew Blake, a homeless printer was squatting in the building and saw the whole thing. Lots of pieces of officialdom take notice when the salesman's identity is revealed, as worries about the German-American volksbund (the 'Bund') are on the rise.
Welker talks a reluctant Blake into taking a job in the offices of the Bund, helping them print their literature and such in order to keep an eye on them. Blake is terrified by the murder and almost paralyzed with fear that his spying will be discovered. He laments every assignment and drags his feet in accepting each next task, proving once again that true courage is not going boldly into the unknown, but knowing the danger and going anyway. And when his German masters, in turn, ask him to spy on the Communists, he's a pretzel of hesitation.
Kurland develops the plot in a number of interesting ways by giving Lord Geoffrey his own brush with the Nazis when he accompanies the now abdicated Edward VIII on an official visit to Germany. Edward is impressed by Hitler and comments that the fuhrer is forceful and says what's on his mind. Saboy responds that one likely acquires the habit of being forceful when no one dares disagree. If you are familiar with the real-life affinity Edward VIII had for Hitler, this plotline is especially intriguing.
Saboy receives the assignment to accompany HRH on that trip because of a dangle British intelligence received from a German officer. They meet, and the officer – Oberst Altgraf Wilhelm Sigismund Marie von und zu Schenkberg – appears to be the real thing, willing, despite the great risk, to provide information to British intelligence in exchange for help spiriting his Jewish mistress and their two children out of the country.
Meanwhile, intelligence from multiple sources suggests the Gestapo is planning a major terror event in New York, which the Germans plan to set up so that blame lands on the Communists. But what, where, and when is this to take place? These are the questions preoccupying the British couple and Welker, their American friend (and possible future amour of Lady Patricia), determined to somehow foil these plans.
The nicely plotted story moves along at a sprightly pace. All the while the characters are dealing with deadly serious matters, they maintain their lighthearted, let's-not-take-ourselves-too-seriously banter. At the same time, Kurland captures the spirit of the times: the oppressive gloom of Germany, the uncertainties about impending war in Britain, and the fear of the extremists of right and left who threaten America. You may be as delighted as I am that The Bells of Hell is billed as A Welker and Saboy Thriller, which may signal more good stuff to come.
Other good titles from this period include Ungentlemanly Warfare by Howard Linskey and the Bernie Gunther novels of Philip Kerr.
Severn House
Print/Kindle
£18.94
CFL Rating: 4 Stars