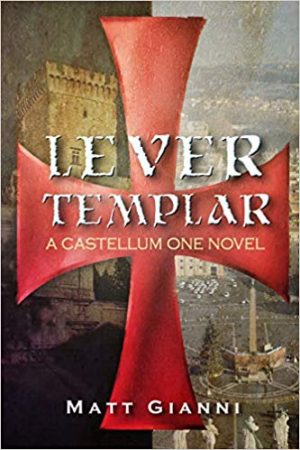 Written by Matt Gianni — Alternating chapters of his new thriller from Matt Gianni unfold in two time periods, the early 14th century and the present day. If you're familiar with the tropes of Dan Brown's The Da Vinci Code or movies such as Indiana Jones and the Last Crusade, you'll know that the Knights Templar, which existed for less than 200 years, are a long-lived treasure trove of secrets and mysteries, and Gianni expertly mines them here.
The Knights Templar were a Catholic military order that distinguished itself during the Crusades. When this novel begins in 1307 the Holy Land has already been lost and the Templars are under siege. King Philip IV of France is deeply in debt to the order and wants to destroy it to erase his debt. He is pressuring Pope Clement V to disband it (which he eventually does in 1312). One artifact has preserved the Templars through the vicissitudes of the era – the Lever Templar – a scroll that would redefine Christianity. What and where is it?
In the novel's opening scenes, Knight Malcolm of Basingstoke, his sergeant Brimley Hastings and his squire break into the Knight's Preceptory in Shipley, south of London. They steal an ancient leather pouch and murder the sentry. Only later does Brim, who becomes the hero of the piece, learn that the pouch contains the Lever Templar. After the theft and murder, Malcolm and Brim are on the run and escape by sea to Cyprus where the Templars maintain a stronghold. There they reconnect with old friends, including a young woman who becomes Brim's love interest. Meanwhile, violent opposing forces scour the island for the missing scroll. And so Brim's quest to safeguard the Lever Templar begins.
In current-day Mosul, Iraq, American Rick Lambert works for the Iraqi Interior Ministry's Investigations Unit, trying to solve a rash of Christian priest abductions. In fact, he and his partner have actually partially foiled most recent the attack. The church is destroyed in an explosion, but not before a dying priest extracts an ancient domino from a hiding place and gives it to Lambert saying, "Protect Cyprus."
Lambert reaches out to a friend from his days at the University of Washington, Professor Danny DiCarpio. The domino and its inscriptions are just the kind of mysterious artifact that will intrigue DiCarpio, who soon establishes its connection with the legendary scroll. DiCarpio's inquiries at the Vatican raise some eyebrows, and the Church sends someone to inspect the bombed-out church. He's a senior inspector in the Congregation for the Doctrine of the Faith – AKA the Holy Inquisition! Inquisitor or no, he doesn't live long. The Farsi-speaking terrorists targeting Christian churches know about the scroll and believe it will destroy Christianity. And so the modern-day race to find it commences.
This is a rip-roaring adventure on two time-fronts and author Gianni does what I wish more authors would do to help you keep it straight. He includes maps of the principal locations, which are especially helpful in staying oriented, because he's not generous with description. He also provides a list of characters, past and present, noting which of them are actual historical people. He's done a creditable job in portraying life seven centuries ago in a believable way, down to the detail of using carrier pigeons to deliver messages across long distances.
Gianni's writing style is clear and has strong forward momentum. With more delving into the emotional state and perspectives of his characters, he might encourage a greater connection with them, but if characters are best known by their deeds, those are certainly on view here. He makes a half-hearted attempt to give Lambert a character flaw – excess drinking after his terrible Army experiences in Fallujah (left to your imagination) – but it isn't convincing, never gets in Lambert's way, and has been done too many times.
If you're a fan of the Indiana Jones franchise or appreciate the speculative history-based fiction of Dan Brown and others, you'll find this an exciting companion.
For top historical crime fiction through the ages, see this feature article by expert Barry Forshaw.
Dark Ink Press
Print/Kindle
£11.60
CFL Rating: 4 Stars