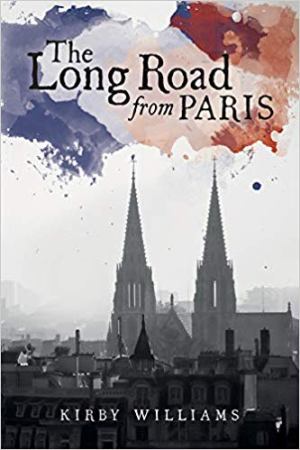 Written by Kirby Williams — This is Kirby Williams's second thriller featuring New Orleans jazz prodigy Urby Brown, an expat living in Paris even as the dark clouds of Naziism spread over Europe. Author Williams, an expat himself, effectively conveys his love of the city where he has lived and worked for many decades.
The book begins with Brown's early years in New Orleans as a white-skinned octoroon, son of a quadroon woman named Josephine Dubois and a white Frenchman who skedaddled back to France after impregnating her. In 1895, Josephine left her newborn in a Moses basket on the doorstep of Saint Vincent's Colored Waifs' Home. She later pleaded with Father Gohegan, the priest in charge of the Waifs' Home, to contact the baby's father who she claimed was a count. The priest refused and Josephine committed suicide.
As a teenager, Brown played his clarinet – skirting both Lousiana law and Father Gohegan's rules – at Madame Lala's Mahogany House, an infamous bordello that brought together top jazz players. These connections were renewed once he moved to Paris, joining the many African American musicians escaping US Jim Crow laws.
Brown, his mentor and fellow clarinetist Stanley Bontemps, and his live-in girlfriend, Hannah Korngold, are living in Paris in relatively peace and prosperity into the 1930s. Brown owns a Montmarte nightclub, purchased with the generous proceeds from his days as a private eye, when he helped a wealthy American family find their daughter. Hannah helps Brown run his nightclub, but she is an American Jew whose future under the Nazis will be just as precarious as his own. Worse, she sympathises with the Republicans in the Spanish Civil War and barely escapes that conflict with her life.
Williams writes Brown's first-person story with an emphasis on what happens, not why or how. He doesn't engage in lengthy descriptions of people, places or events and will even skip past significant dramatic opportunities. For example, at one point Brown pulls strings to extricate two Jewish music professors from Germany. They arrive at the nightclub and are hidden in the attic, but within days they are betrayed, arrested and deported. That's pretty much all Brown tells you about this.
This spareness is both bothersome and energising – bothersome because you don't always know why Brown takes a particular course of action. At the same time, it establishes a powerful narrative energy. The author apparently takes for granted that you have a pretty good mental picture of the fascists and the threat they pose, Paris between the wars, and the difficulties facing African American musicians, and he relies on our own imaginations to fill out the picture.
Urby Brown does find his father, a man to whom he bears a remarkable likeness. He is indeed an aristocrat: General Count René d'Uribé-Lebrun, confidant of Marshal Philippe Pétain, and leader of the Oriflamme du Roi, a group of right-wing thugs who parade around like stormtroopers in advance of the real thing.
Brown himself, in protecting one of his friends, the popular African American nightclub owner Red Top, is forced to shoot and kill a man named Buster Thigpen. Buster and Brown went way back to the Colored Waifs' home, where Buster was a notorious bully. After Brown shoots him, he learns Buster was his half-brother, and the Count uses this murder to blackmail him.
Eventually, Brown realises the Count has been spying on him for years. He further realises that just about every person who knows about his mixed-race birth has been eliminated through murder, fake suicide, and arson. There must be more to the story of his birth than he's been told, and Brown vows to find out.
Brown abhors his father's politics but tries to keep the dialog between them alive, in order to protect Hannah, whom the Count candidly admits he intends to eliminate. The coming of the Nazis changes everything, and Brown may not be able to keep his vow never to kill again as he and Hannah try to escape.
Pushcart Press
Print
£13.17

CFL Rating: 4 Stars