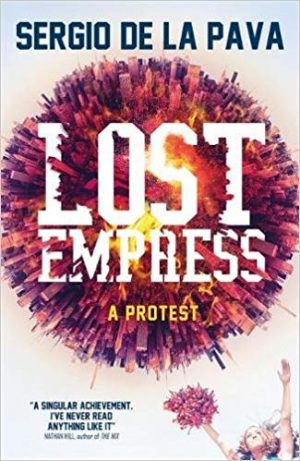 Written by Sergio de la Pava — This remarkable book is a crime novel in only the loosest sense of the genre. Yes, crimes take place; yes, a significant chunk of the action takes place on Rikers Island, the notorious New York City prison complex; yes, some of the characters are criminals, would-be criminals, or just criminally out-of-touch. But it is far from your conventionally conceived and plotted police procedural.
At 621 pages, an awful lot happens and, as a reader, you have to hang in there. It offers a meditation on time, an evisceration of professional football, a hilarious take-down of the US healthcare system, an exploration of the meaning of loneliness and the futility of religion – all these things -and a kaleidoscopic, postmodern approach to the question 'what is justice?'
Fortunately for his readers, Sergio de la Pava has a sly sense of humour that keeps the pages turning as situations at first merely spiral out of control like a poorly judged forward pass. And, the book has an appendix, A Primer on American Football for the Neophyte, to shed light on that reference.
A great many characters are introduced early, all described with juicy details that make their stories tantalising. Figuring out how or whether they will all come together and staying with it in some of the denser passages requires patience that will be rewarded. As the story settles down, two principal characters emerge.
The first is Nina Gill, former co-owner and brains behind the top-of-the-charts successful Dallas Cowboys. Family maneuvering gives her her own football team – not the Cowboys, but the decidedly non-competitive Paterson Pork. Nina is a force of nature, the Lost Empress of the book's title, and a beauty. She gets what she wants, and what she wants is a winning football team and a painting by Salvador Dali, hidden away on Rikers Island. Her associates in a criminal syndicate, The Absence, will make sure she gets it.
The Pork may be a fifth-rate football team, but the National Football League players are in a lockout, the owners have cancelled the season. So the gutsy Nina names herself head of the Indoor Football League and recruits players wherever she can get them, including a cornerback just released from the notorious Attica prison. She manages all this with the aid of her college student second-in-command, Dia Nouveau, and the laugh-out-loud banter between tough Nina and can-do Dia is sometimes presented like the script for a screwball comedy.
The other main character is Nuno DeAngelis, a career lawbreaker headed to Rikers Island. But Nuno is a deep thinker and concerns himself with philosophy. "They can put him in Rikers, but they can't make him live there. There's two of him and only one's going in."
The story of his life in prison, how he gets out and back in again, is written in what you might call a suprarealistic style, not as gritty crime drama, but floating somewhere above reality.
A minor character, Jorge de Cervantes, is killed in a vehicular homicide and the driver sent to Rikers. Some of the lesser members of the de Cervantes family ask Nuno to avenge Jorge. His other assignment while incarcerated is to get that Dali painting for Nina. The de Cervantes cousins talk tough, but a commission from The Absence is one where, if you fail, you die.
Trying to give a sense of the plot of a novel this sprawling is not only impossible, but probably irrelevant. De la Pava has created a three-ring circus involving clowns, daredevils, and high-wire performers, using characters engaged in seemingly ordinary jobs and activities – a 911 call transcriber, a man caring for his ailing mother, a parking garage operator, a priest in a dwindling parish, and a failed doctor who becomes the Paterson Pork mascot.
Clearly de la Pava had some purpose in mind when he named his protagonists Nuno and Nina. They are both a few steps beyond totally believable and polar opposites in terms of material wealth and life prospects. Nina is quick-witted and focused on practicalities, but Nuno is perhaps more deeply intelligent, and the brief he writes for his Grand Jury proceeding is both expletive-laced and morally persuasive.
De la Pava's first novel, 2008's A Naked Singularity, was originally self-published, but when the University of Chicago Press discovered and republished it in 2012, it received the PEN/Bingham Prize for best debut novel of the year. His is a refreshing and unforgettable voice, one that breaks many of the usual boxes for both crime and literary fiction, stretching the form and the reader as well.
Discover more literary crime fiction here.
MacLehose Press
Print/Kindle/iTunes
£9.99
CFL Rating: 5 Stars