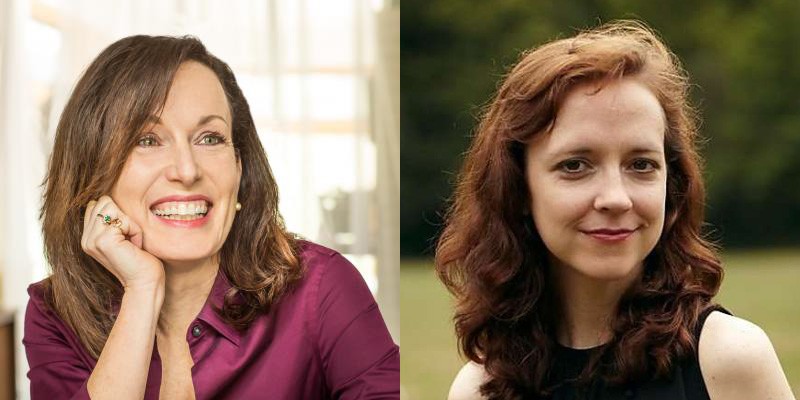 Alison Gaylin writes tense crime thrillers. Megan Abbott is the queen of contemporary American noir. If you love crime fiction as much as we do, and enjoy a good graphic novel too, then you couldn't have dreamed it much better. Last year, both authors teamed up with artist Steve Scott to create the comic book series Normandy Gold for Hard Case Crime and Titan Comics. The first set of issues has now been packaged up into a glorious graphic novel, which came out a month ago. Inside you'll find 152 pages of kidnapping, drugs, prostitution and political corruption in a rough and ready 1970s Washington, DC, as Sheriff Normandy Gold searches for her sister. So, it's high time we sat down with Alison and Megan to get the lowdown on their collaboration, and why they went retro.
How did both of you become involved with the project and how did the collaboration work in practice?
Megan Abbott: We came up with the idea for Normandy Gold nearly 10 years ago. In my memory, we were on a train back from a crime fiction convention in Baltimore and we talked about wanting to write something based on our mutual love of 70s movies. And, most of all, we've always loved those cool, stoic, damaged male characters played by Clint Eastwood, Charles Bronson, James Coburn, etc. We were both frustrated with how rarely those characters are women. And so came Normandy.
Alison Gaylin: Yes! We first became friends when we were both nominated for an Edgar for Best First Novel, and had been talking for quite some time about collaborating on a project. A graphic novel seemed an exciting way to explore this very visual idea.
1970s films like The Conversation were an inspiration for you. Why did you choose that time period and what is it about those movies that inspired you?
MA: I think foremost it was that feeling of paranoia. The sense of living in a fallen world where all the big institutions are shown as corrupt and the characters have to find a way to operate in this fallen world.
AG: It's also interesting how relevant those 70s themes are today. The sense of paranoia, cynicism and ultimately rage feel even more relevant than when we first came up with the idea.
There is a grindhouse/exploitation feel to the book. How did you decide upon the balance you wanted between gritty reality and pulp entertainment?
MA: I think it was pretty organic for us. We both love, say, the movies of Brian De Palma from that period, especially Dressed to Kill. We love how those films walk the line. And we knew if we were true to our characters we would never veer into exploitation.
AG: Yes. When we were writing it too, it was very important to us that the visuals and writing never felt jokey or cheesy. We love those movies. It's an homage, not a parody, and we were always very aware of that.
Normandy Gold is part of the Hard Case Crime comics line. Their novels have a strong identity. Is there a 'look' that the comics have to share? If so, how did this influence your approach?
MA: I think it was just mutual taste finding each other. We'd already written Normandy when Hard Case approached us. And, through the crime fiction world, we've known Charles Ardai, the founder of Hard Case, for years and have always loved his mission of bringing back the aesthetics of mid-century pulp.
AG: One thing we loved about working with Charles is that he understood the look and the characters so well. Our script was full of movie stills, and the artist Steve Scott was able to capture the feel of them in ways that exceeded our expectations.
You are both successful novelists. Did writing for comics requires a different approach? How did you adapt?
MA: There isn't a necessary connection between writing novels and writing comics – other than a commitment to character and story. But there is a more direct connection between movies and comics and I think we drew on that a lot. We kept thinking about how we would tell this visually, as if a lost 70s movie was unspooling before our eyes.
AG: There's a complete reliance on visuals in writing a graphic novel script. It's like storyboarding a movie, and while that's a good deal more constricting than writing a novel, it's also, in a way, quite freeing. It seemed like the perfect medium for this project and it was really so much fun.
Do the two of you plan to work together again, and what's next for both of you?
MA: I for one would love to work with Alison again. And, as for me, my next novel, Give Me Your Hand, comes out in July. It's about two female scientists caught in a ruthless competition. They share a secret and, well, bad stuff happens. I'm also working on TV projects including adapting my novel Dare Me as a network series.
AG: I'd love to work with Megan, too! My most recent novel is If I Die Tonight – about a carjacking/hit-and-run in a peaceful Hudson Valley town and the lives it changes and destroys. I'm currently working on another novel, out next year, about a woman who learns, via a true crime podcaster, that her beloved mother may have been half of a couple who went on a mass murdering spree in the 70s.
For more crime graphic novels, click here. You can read more about Alison Gaylin's work here, and about Megan Abbott here.