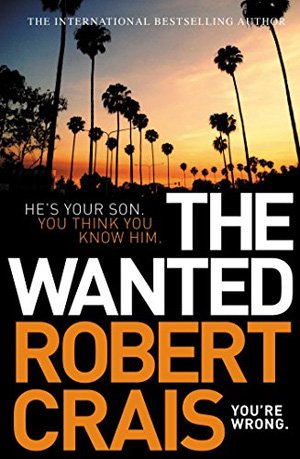 Written by Robert Crais — The Wanted is the 17th novel in the best-selling series about Los Angeles private detective Elvis Cole and his strong-arm sidekick Joe Pike. It also marks the 30th anniversary of their debut in The Monkey's Raincoat. That novel collected the Anthony and Macavity Awards, and over the years Crais has either been nominated for or won just about every major crime-writing award. He is a Private Eye Writers of America Lifetime Achievement Award Winner and a Grand Master of the Mystery Writers of America. The Wanted looks likely to add to that success.
Elvis Cole is approached by Devon Connor who has concerns about her teenage son, James. She has found cash that cannot be accounted for, and an expensive Rolex watch that he should not be able to afford, in his bedroom and is worries that he is drifting into drug-dealing. James is an anxious kid, lacking social skills, and impressionable. Devon wants this nipped in the bud before he gets into serious trouble.
A contact of Cole's in the jewellery trade is able to identify the Rolex from its serial number. The watch was stolen in a burglary, but worse is the news the police are investigating the crime as one in a series of 17 non-violent burglaries committed in rich areas of the city over the last few months. A task force has been appointed and Detective Dani Cassett from Robbery Special soon wants to know why a private detective is digging about in her case. Cassett has security footage of three juveniles, two boys and a girl, carrying out the crimes but no identification.
Cole realises his strategy should be to stall the police long enough for James to turn himself in, and that way James might be able to avoid a custodial sentence. But if the police catch him first he's going to jail. When James goes missing after having agreed to Cole's plan, the race is on to find him before the police do. However, they are not the only people looking for the three kids. Breaking into one of the houses, they have inadvertently ripped off some criminals and come away with some incriminating evidence. Two men have been hired to find the kids, kill them, and recover the evidence, and they have a head start on Cassett and Cole. Whilst Cole and Connor believe they only have to get to James ahead of the police, in fact Cassett and her team are the least of their worries.
Crais is working right at the top end of mainstream commercial crime fiction, and it's easy to see why. Cole himself is an impressive creation; he is smart, humorous and confident, just the right side of conceited. If the purpose of this particular type of crime fiction is to be reassuring, to show that while crimes are committed, they are also solved, then it's obvious that Cole would inspire confidence.
Crais handles the plotting really well, making the most of a cracking set up; I felt helpless as Cole and the kids play cat and mouse all over Los Angeles, all the time unaware that the killers are closing in.
You might already be familiar with the dynamic between the garrulous Cole and his taciturn but fiercely loyal sidekick. It is a variation on the buddy cop motif so popular in the movies. Writing male friendships must come easily to Crais, as some of the best scenes are between the two killers, Harvey and Stemms; they bicker like an old married couple but still maintain a palpable menace.
It is true, however, that there is not much going on beneath the slick surface. No particular themes evolve. This is a novel for entertainment, not contemplation. If that's your bag, my advice is to look elsewhere. But, as a diverting holiday read, when you can no longer face another viewing of The Great Escape, then The Wanted will be hard to beat.
The Wanted is released for Kindle on 28 December. We have previously reviewed Robert Crais' The Promise, Suspect and Taken.
Simon & Schuster
Print/Kindle/Audio
£9.99
CFL Rating: 4 Stars