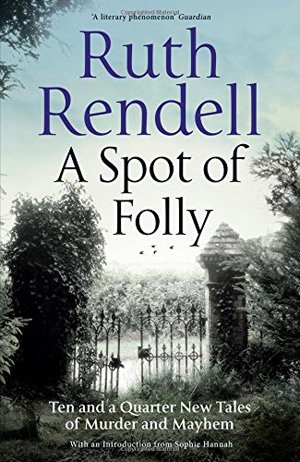 Written by Ruth Rendell — These previously uncollected or new short stories are a masterclass in how to deliver psychological suspense in domestic settings and an antidote to some publishers' current zeal for packaging and claiming grip-lit and domestic noir as a nearly-new phenomenon.
Although Ruth Rendell's famous Chief Inspector Wexford police procedurals often engaged with broad social and political issues, these shorts are preoccupied with settings of a more domestic scale. They were first published or written between 1974 and 1997, and although there are a few quaint phrases and several kept-at-home wives featured, we are not subjected to the obligatory bigger, not better, huge reveals or shockingly unbelievable twists we are sometimes handed now.
Here are obsessional, dysfunctional and delusional protagonists in chilling tales that reveal the messed up beings that humans are and examine what we are capable of doing to one another. Things fall apart for her characters in subtle and weird, but believable ways, and the stories are darker and more compelling for that.
We hear the inner thoughts of murderous, adulterous and jealous husbands speaking to us confidentially, revealing their dark motivations and building our unease. In the collection's introduction, author Sophie Hannah talks of how vital it is to hook the reader from the very first line. Try these two openings: "I murdered Brenda Goring for what I suppose is the most unusual of motives." And: "You won't believe this, but last week I tried to murder my wife."
Often Rendell's reveals are at the beginning of the story, what she explained as "…an invitation to look for suspense because you're waiting for it to happen." Following these explosive starts come the slow reveals, very often by a narrator who thinks he knows the whole story and only releases the facts trickle by trickle before an unpredictable but satisfying and believable ending that catches the teller by surprise too.
Rendell steers clear of moral judgments, allowing us to judge if we choose to. She keeps the acts of violence offstage, except in the murder of Brenda Goring in The Irony of Hate, which is brief and brutal, recounted in two short sentences. Instead she intimately reveals the protagonists' psyches and builds the unease all the way to the twisty consequences.
In other tales the narrators have little clue what is going on. In Digby's Wives we observe the hapless and impotent narrator and witness to his friends' devious actions become complicit and unable to act, long after we fear and he begins to suspect the worst.
One of the longest and most gripping tales is The Thief. Polly has spent her life lying, stealing and destroying the possessions of those who cross her. But is she cured of the habit when she falls in love with a man who hates liars and she knows she will lose everything if she doesn't change her ways?
There are two ghost stories with malevolent forces that cause the haunted living to perform dark deeds. One opens: "I don't believe in the supernatural, but just the same, I wouldn't live in Shawley Rectory." But someone does and has to leave when the footsteps in empty rooms become scary.
A recurring theme is: 'what is the worst that can happen?' This is taken to the ultimate in Trebuchet – a dystopian Cold War tragedy focusing on one day in the life of a family in which the reality is never discussed, but the signs are there in the freaky weather, the false dusk, the white brightness of the aurora and a pony lying like glass in a frosty field in the height of summer.
As I read far in to the collection and her rhythm of storytelling, I did begin to second-guess a couple of the denouements, but then to my delight was back-footed in a later story. Rendell's skill is to grip us early and hold us lightly in her grasp to the end.
Look back at how we remembered Ruth Rendell after her death two years ago. And we reviewed several of her novels including her debut From Doon with Death, and her Wexford books and even spent an evening in her company here.
Profile Books
Kindle/Print/iBook
£10.49
CFL Rating: 5 Stars