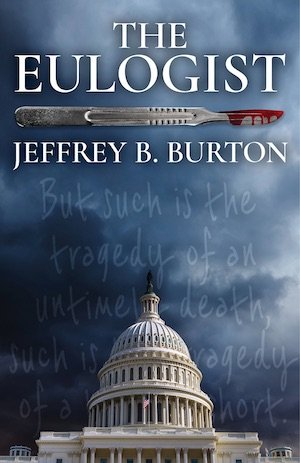 Written by Jeffrey B Burton — The Eulogist is book three in Jeffrey B Burton's Agent Drew Cady series. It doesn't matter if you haven't read The Chessman or The Lynchpin yet, because it works perfectly well as a stand alone mystery. Any necessary back story is quickly dealt with in the opening chapters.
FBI Agent Cady is in Washington, DC to testify before the Senate about Medicare fraud when he is dragged into an investigation by his former boss in the agency's Criminal Investigation Bureau, Director Roland Jund. Jund wants to put the old team back together for a murder investigation of the highest urgency – a Senator has been killed in his Washington apartment.
So, Cady finds himself leaving the fascinating world of healthcare fraud behind and back working a dangerous investigation with his old partner, Agent Liz Preston. Senator Taylor Brockman of Virginia was killed with a stiletto to the heart, and a eulogy left by his corpse. Brockman had no particular political enemies, and his marriage was one of convenience that suited both him and his wife. He had the occasional late night female visitor to his flat, but that was something his wife knew about and accepted.
The first hours of a murder investigation are critical to its success, and the victim's high up position intensifies the pressure on the team, whose investigation is in danger of stalling. They catch a break when the Baltimore police inform them of a murder that might be related to their case. The modus operandi is identical, a stab to the heart and a eulogy left at the scene, even if the circumstances are vastly different.
The second victim, TJ Aadalen, should have had it all. As the youngest son of Maurice Aadalen, CEO of Aadalen Pharma, his future was gold plated. But it was tarnished by an expanding drug habit leading to a conviction for vehicular homicide and jail time. After his release, he turned tricks for drug money in the worst parts of Baltimore. Aadalen contributions to the Brockman campaign followed by TJ's pardon by the late senator make Cady and team certain there's a link between the two deaths.
The investigation criss-crosses back and forth across the country as Cady and the FBI chase down leads. Did the father of the child TJ Aadalen killed commit these murders? Is there any link to an FDA investigation into a new Alzheimer's drug that Aadalen Pharma is developing? In addition, the author introduces 'the Canadian', an assassin from Toronto whose thrill is the kill. Be prepared for a surprise or two with this one. Burton does a good job of playing with your assumptions when it comes to the Canadian.
The Eulogist is a perfectly serviceable, if not outstanding, thriller. Cady is a personable lead; engaging, and capable when needed, but there is nothing to distinguish him from a thousand other agents or cops. Likewise, the plotting is fine, with a couple of twists late on that I didn't see coming, but nothing out of the ordinary. You can be pretty confident that you'll enjoy reading The Eulogist, but it lacks that special X factor required to get into the top category of procedural mysteries.
For more crime fiction set in Washington, click here.
The Permanent Press
Print/Kindle
£8.88
CFL Rating: 3 Stars