It's our birthday… Six years ago, Crime Fiction Lover was born and nobody visited our site! The next day, 35 fans of the genre paid us a visit to enjoy articles like this look at the top five female crime authors, or a review of Henning Mankell's One Step Behind. Since then we've grown and grown, and yesterday we entertained over 3,000 crime fiction lovers. It's amazing to think that over 1.5 million people have come to CFL over the years to find out more about crime and mystery novels.
If you're a regular visitor, you'll know that over the last six years we've written relentlessly about crime books, TV shows, festivals, comics, apps, games and more. The hard work has all been worth it because we generally get great feedback from our readers. Well, people keep coming back, anyway!
We'd like to say thank you to all our readers, contributors and supporters out there. Recently we had the honour of being placed second in the top 50 crime book blogs and websites on Feedspot.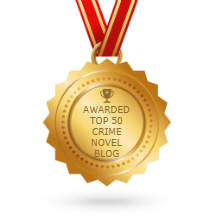 At a time like this, it's fun to look at the site's statistics to see what some of the most popular articles have been. It tells us what crime fiction lovers out there are enjoying. Here are five highlights based on our traffic numbers for the 3,125 articles we've posted over the years.
Crime books
Our crime book reviews are the mainstay of the site. We try to bring you the latest, the best and the most interesting new releases and generally we bring you at least one review a day. Anthony Horowitz's recent crime novel Magpie Murders is one of your favourites, along with The Woman in Cabin 10 by Ruth Ware and Death Comes to Pemberley by the late, great PD James. By far the most popular best of feature rounding up books in a single genre is this piece about the best serial killer novels, though lots of readers also like our 12 best private detectives article.
Nordic noir
One of the most popular topics we cover is Scandinavian crime fiction and although some have been ringing its death knell, our figures show no sign of its demise. This review of Police by Jo Nesbo is the most popular book review on the site, and our guide to the main character Harry Hole is one of the most visited features. Karin Fossum, Arnaldur Indridason and this article listing the top 10 Nordic noir novels of 2016 have all been read by thousands and thousands of fans. We were heavily involved in the Iceland Noir event in both 2014 and 2016.
Crime shows
Although we posted it way back in March 2014, this article listing the 20 best crime shows of all time seems to have stood the test of time and people are still reading it and commenting on the selection. It includes hits like The Wire, The Bridge, Inspector Morse and Prime Suspect, but since then there have been some great shows like Fargo and True Detective as well.
Interviews
Since we launched, we've interviewed over 300 crime fiction authors. So far, your favourite has been the one we did with Scottish author Stuart MacBride in 2014. Others that have received top billing include Eva Dolan, who used to write for our site but has gone on to become a leading voice in British crime fiction, and Danielle Ramsay, author of Broken Promise.
So… wow… we've turned six. A big thank you once again to all our readers, all the CFL contributors past and present, and all the authors, advertisers and sponsors who have supported us.