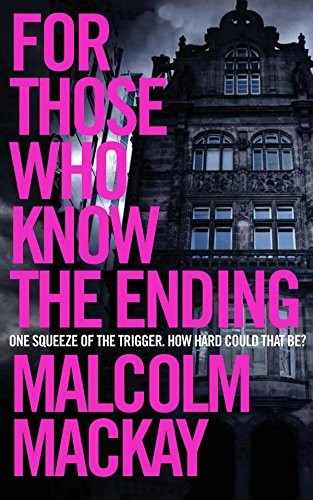 Written by Malcolm Mackay — Martin Sivok wakes up in a deserted warehouse. He is tied to a chair and the balaclava he was wearing earlier has gone. Who is Martin and what led him to this pretty pickle? We're about to find out.
For Those Who Know the Ending does exactly what it says on the tin – because right from the off we know that poor Martin is cruising for a bruising. But there's a long, long way to go before all the pieces of this particular jigsaw fall into place.
The setting is the ganglands of Glasgow, where the one of the biggest players is having a few problems. The boss is in jail and those who remain in the Jamieson organisation are desperate to hold things together and keep the gang in pole position. The audacious theft of a big wedge of their dirty cash looks likely to scupper those plans for city dominance – until Nate Colgan, the gang's 'security consultant', comes up with a cunning plan…
You see, the daring heist wasn't done by rival gangsters, just Usman Kassar, a local young whippersnapper with big ideas, and the aforementioned Martin, who is a criminal of an entirely different calibre. A gunman and experienced enforcer, he left his native Czech Republic under a cloud and has been struggling to find a way in to the Glasgow crime scene ever since. Usman's proposal seems a little half-cocked, but Martin has little else to occupy his time and agrees to the two-man job. It's a decision that leads to that warehouse, and the tricky predicament outlined in paragraph one of this review – but are things so cut and dried? There are tortuous twists and dastardly dead ends aplenty to navigate before this journey is at an end,
Author Malcolm Mackay demonstrates a deft and delicate touch while portraying a downright dirty subject. We are talking the depths of criminal chicanery here and there's violence aplenty but it is tempered by humorous moments that lighten the mood. Reading For Those Who Know the Ending brought to mind the novels of Keith Nixon and his 'hero' Konstantin, and the black humour of Paul D Brazill – no bad thing, in my opinion.
The clunky chapter construction can be off-putting and confusing. The narrative ebbs and flows between the tied up Martin and the build up to how and why he has fallen from grace but there is little to distinguish between the two and on occasion I found myself back pedalling to work out what was going on. If you're a newcomer to the series then there is a handy list of previous and current cast members at the front of the book.
The pages are populated with a hardened bunch of criminals, but the canny pen of an award-winning writer isn't about to leave us with two-dimensional identikit sketches of his characters. These guys might be engaged in nefarious dealings but they have lives outside of the business and it is these peeks behind the scenes that really bring the book (and its large cast) to life. Who knew that men who make their money out of murder could have such a soft side too?
Make no mistake, this is a gripping and at times gruesome read but the sheer skill of the plotting and overwhelming sense of desperation makes it a book that's hard to put down. It is remarkable that this author can summon up such an authentic picture of Glasgow's underbelly while living peacefully on a remote Scottish island! Mackay is a lover of the work of Hamnett and Leonard and that hardboiled style is echoed in his sparse, staccato sentences and clipped dialogue.
It is over three years since Malcolm Mackay staked his claim in the ever-growing list of best selling proponents of Tartan Noir, gathering up awards and award nominations for his debut The Necessary Death of Lewis Winter. On this showing, his place is assured for many years to come.
Mantle
Print/Kindle/iBook
£8.54
CFL Rating: 4 Stars