Ah, Christmas. The streets are full of drunken Santas, more than one domestic murder can be put down to a fight over who had the last mince pie, and elf muggings reach record numbers. One Christmas tradition is worth keeping though, and that is Crime Fiction Lover's annual best of lists by the site's contributors.
This year, my list contains one British book, three American, and one translation from French. There are two indies as well as three from mainstream presses. There is noir, a procedural or two, and three thrillers. Most excitingly for me, none of the authors have appeared on my best of lists before, which shows what a healthy state crime fiction is in.
Before getting to my list, a tip of my hat to Keith Nixon, Gore Vidall, Jon Bassoff, Mick Herron, and William Hjortsberg who all had marvellous books published this year.
5 – The Cartel by Don Winslow
Ten years after The Power of the Dog, Winslow returns to America's deeply flawed war on drugs and puts DEA agent Art Keller through the wringer one more time. Once again Keller faces up against narco king Adan Barrera, but what happens when two such driven adversaries find they share a common enemy? Winslow shows us brief moments of hope and humanity amongst the bloodshed, but The Cartel is as visceral a read as you can find and Winslow does not shy away from portraying things as they really are. The Cartel is a major work from a major talent. You can read our review here and an interview with the author here.
Buy now on Amazon
4 -Last Words by Michael Koryta
Koryta may just be crime fiction's best kept secret on this side of the pond, but Last Words looks set to change that. Stateside, Koryta has built an enviable reputation as a writer of exciting, literary thrillers. Mark Novak, an investigator for a Florida law firm travels to remote Indiana to investigate the disappearance of a local girl. What he finds is a small-town community full of secrets, divided about the guilt of a local loner in the disappearance, but united in wanting Novak gone. A fantastic climax in Trapdoor Cavern more than proves Koryta's action chops. You can read our review here and our interview with the author here.
Buy now on Amazon
3 -Syndrome E by Franck Thilliez
It might be a simplification to call Thilliez the French Jo Nesbo, but his thrillers manage to satisfy the demands of readers looking for grand action whilst at the same time providing strong characterisation and psychological insight. Certainly his protagonists Lucie Henebelle and Frank Sharko could give Harry Hole a run for his money in the screwed-up stakes. In lesser hands Syndrome E's globe trotting plot of subliminal imagery, CIA mind-control programmes and real life historical scandal could have been baffling. Instead it is a compulsive page turner that leaves the reader sad it is all over. You can read our review here.
Buy now on Amazon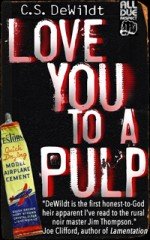 2 – Love You to a Pulp by CS DeWildt
The ghost of Jim Thompson hovers over this rural noir, and no doubt he looks down in admiration. Neil Chambers is the kind of messed up loser that Thompson wrote so well – a glue-sniffing private eye, unlucky in love and in life tasked with finding a runaway daughter. Chambers' investigating method doesn't add up to much more than taking a beating then blacking out, then getting high then blacking out, but my heart went out to this dogged investigator who just keeps getting back out. An extended flashback scene to Chambers' youth when his father puts him in the boxing ring with a bigger, stronger opponent was flat out the best writing I read this year. You can read our review here and an interview with the author here.
Buy now on Amazon
1 – Dust and Desire by Conrad Williams
The past and the present clash in Williams' crime debut as PI Joe Sorrell cruises through South London's dives looking for a journalist's missing brother but instead finds himself in the target sights of a demented serial killer. I knew 20 pages in that this book would be making my best of list. It is rich in atmosphere, really making the most of its location; Sorrell is a brilliant creation with a vocabulary of sarcastic rejoinders that would put Philip Marlowe to shame, and Williams displays a keen psychological insight into the conditions necessary to make a monster. Dust and Desire is just crying out for a television adaptation, but even if that doesn't happen there are two more Sorrell novels to look forward to. You can read our review here and an interview with Williams here.
Buy now on Amazon
Happy Christmas. You can read about which books my colleagues on Crime Fiction Lover selected by clicking here.