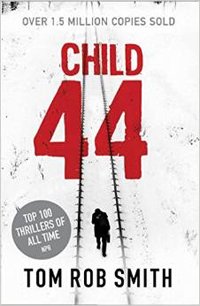 First published in 2008, Child 44 put Tim Rob Smith on the map as an author of taut, gritty crime fiction. Like Gorky Park, it used Soviet Russia as its backdrop – with all the nuances of communist justice. Also like Gorky Park it's now been adapted for film, with Tom Hardy, Noomi Rapace and Gary Oldman taking central roles. The box office hasn't been kind so far, and critics are speculating that its reliance on emotion and intellect rather than special effects will relegate it to the small screen. We decided to have another look at the book…
Child 44 was inspired by the real-life story of Andrei Chikatilo – the Butcher of Rostov – who between 1978 and 1990 murdered and mutilated at least 52 women and children in Russia, Ukraine and Uzbekistan, which were all part of the Soviet Union at the time. The investigation into the killings was deeply flawed, giving Tom Rob Smith the idea of setting the story further back in time, during Stalin's reign. In that period, crime was blamed on capitalism and murder considered a 'capitalist disease'. In the ideal communist state there would be no crime, because all people would be equal and have their needs met.
It's 1953. Leo Demidov fought bravely in WWII and is now a rising star in the secret police. He has somehow bought into the idea that Papa Stalin is protecting the motherland from any subversion or treachery and has so far had few qualms arresting those who dared to contradict the state. When a colleague of his claims that his young son has been murdered near a railway line in Moscow, he is quick to tell the family to step back into line. Murder is unacceptable. It simply cannot be true.
As Leo witnesses more instances of cover-ups and miscarriages of justice, he begins to question the official interpretation of the truth, and his own loyalty to that truth. As the doubts set in, his career and life start to unravel. Banished to a remote town west of the Urals, he comes across a case that bears startling similiarities to the child on the Moscow railway line. Slowly, painfully, against the backdrop of general paranoia, uncertain even of his own family's support, he must piece together evidence proving that a serial killer is at large.
The book's windswept atmosphere is visually appealing – those endless snowy landscapes and icy waters, mirroring hearts and minds frozen by fear and paranoia in one of the worst periods of Russian history. There are plenty of scenes of tense drama, narrow escapes, unimaginably high stakes and moral dilemmas.
The author stated that his ambition was merely to create a genuine page-turner, and he has certainly succeeded. I started it in the early evening and couldn't go to sleep until I finished it in the early hours of the morning. But it's much more than that – Child 44 successfully depicts what could be any repressive regime. If we can question the picture he paints, it would be that the true image was a little more nuanced. Ordinary Russians, especially those who lived far away from Moscow, loved Stalin and wanted to believe in his paternalism. Even today many still yearn for it. But that doesn't matter – Child 44 is not a history lesson, but a thrilling piece of fiction.
I haven't seen the film version yet, but apparently it has been banned in Russia, which shows that it still touches a raw nerve there. By successfully recreating a stifling atmosphere of suspicion and oppression, this book clearly has much to say about totalitarianism and an ordinary man's struggle to find out the truth against a big state apparatus.
Tim Rob Smith has written two further books in the Demidov series – The Secret Speech
and Agent 6
. See our review of The Farm by the same author here. Set in London and Sweden, it's also very atmospheric but is a different kind of story… Or check out From Russia with Crime Fiction Lover.
Simon & Schuster
Print/Kindle/iBook
£2.74
CFL Rating: 5 Stars