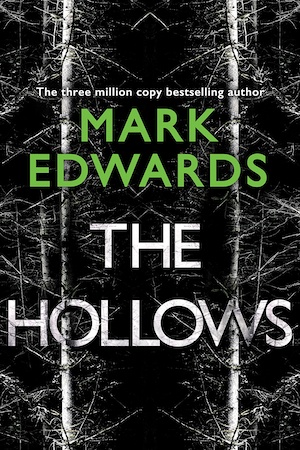 This new thriller by Mark Edwards takes place at an inland summer resort in the state of Maine. He takes advantage of Maine's reputation as remote, dotted with lakes, and covered in deep forests to establish a bit of an other-worldly atmosphere. He doesn't miss the economic straits and spotty wi-fi reception of the state's rural parts, either.
To barely employed British music journalist Tom Anderson, who narrates many of the chapters in the first person, the idea of a vacation swimming and hiking with his 14-year-old daughter Frankie sounded ideal from the other side of the Atlantic. Since his divorce, she lives in Albany, New York, with her mother, and Tom's time with her is precious and rare.
The resort is in the midst of a grand reopening when Tom and Frankie arrive, but what the owners and the slick brochures and website don't reveal is that 20 years before, Hollow Falls was the site of a gruesome double murder. Two teachers chaperoning a group of middle school students were murdered, their naked bodies displayed on a large flat rock in a forest clearing, pagan symbols daubed in blood around them. The teachers were married, but not to each other, and had been carrying on a clandestine affair. Everyone suspected 'the local weirdo' of the crime, a goth and black-metal-music obsessed teenager named Everett Miller. But he disappeared and whether he fled south to New Hampshire or north to Canada, he was never seen again.
Their suitcases aren't out of the rental car before Tom begins to meet the family from the next-door cabin, David and Connie Butler, and their dreamboatish teenage son, Ryan. Connie is an expert on serial killers and true crime stories, and produces a popular podcast on the topic. They reveal that a great many of the Hollows guests that weekend are there for the anniversary. To Tom, this is a ghoulish preoccupation, and the Butlers' delight in the details of the murders more than a little odd.
Still, he's glad Frankie and Ryan hit it off and soon they go off to explore the campground together. They even venture several miles away to the nearest town, Penance, in search of an internet connection. There they meet a creepy boy and girl – twins– about their own age with unhealthily pale skin. Like teenage vampires, Frankie thinks. The twins tease Frankie and Ryan about ghosts. This isn't the only rumour floating on the breeze in the Hollows. Some people seem to believe Everett Miller never really left and has been hiding in the woods all these years.
No wi-fi, no interesting stores. Ryan decides the town is a bust and when the pair of them do detect an internet signal at the back of the resort's main building, he goes online with his pictures of Penance's junkyard, homeless man and a diatribe against the crappy town.
This seems to trigger the initiation of a series of strange events. An eviscerated white rabbit – looking just like the one Frankie has at home – is found on the cabin's front walk. Tom thinks he sees someone watching him, but the face is gone too fast, leaving an impression that isn't human. Frankie is followed in the woods. After several of these events and vague warnings from people around them to leave the Hollows, Tom argues with himself about their significance. In the long tradition of horror fiction, he chooses to ignore the escalating threat. He and Frankie will stay.
Obviously, if Tom had packed up the car and driven back to Albany at the outset, there wouldn't be a story, but his constant soul-searching in the 'I didn't have a choice' vein, when clearly he did have choices and made bad ones, became tiresome. If you can overlook that and don't mind the rather predictable plot, you may find the oddball characters sufficiently engaging to keep turning pages. Mark Edwards has a lot of books and a lot of fans, although The Hollows is not one of his best.
Also see Final Girls by Riley Sager.
Thomas & Mercer
Print/Kindle/iBook
£3.99
CFL Rating: 3 Stars