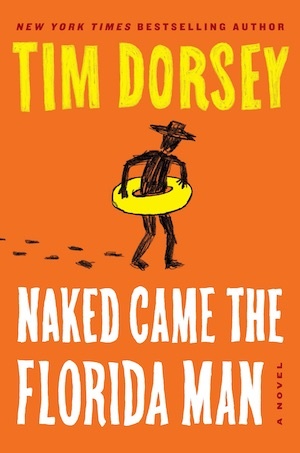 Written by Tim Dorsey — '"Don't shoot guns into the hurricane." Elsewhere this would go without saying, but Floridians need to be told.' So begins Tim Dorsey's comic crime novel Naked Came the Florida Man. If you live in the United States, you know that 'Yesterday, a Florida man…' is the signal that a report of some preposterous behaviour is on the way. Dorsey gives a good example early on, in which a Florida man was arrested for drunk driving when he visited a drive-through bank and tried to order a taco.
Dorsey then proceeds to take the Florida man premise to absurd heights, or lows, depending how you look at it. His story begins when a hurricane hits the Florida Keys and his hero, the aptly named Serge A Storms, who has no discernible occupation, plots a picaresque adventure for himself and his rather dim friend, Coleman. Serge plans to drive them around Florida in his 50-year-old gold Plymouth Satellite, visiting the graves of recognised – and unacknowledged – Florida luminaries.
Enlightening Coleman along their route, Dorsey/Serge manages to work in information about Florida's history, sociology, meteorology and biology. It's hard to reconcile the light-hearted Serge with the man who elaborately plans and carries out four diabolical murders. His victims aren't blameless. One is destroying wildlife, one cheats elderly people out of their homes, and so on, but the gruesome methods by which they die almost put me off the book entirely. Serge does not kill them himself; he devises scenarios in which their deaths at the hands of Mother Nature are a certainty, hard to pin on him, and excruciating.
With its extreme weather, insects, snakes and gators, tony suburbs and ramshackle sugar cane towns, Florida lends itself to Serge's plans as well as his non-stop snarky commentary. "Tequesta, Florida. The northeastern tip of Palm Beach County on the ocean. Named after the Native American tribe who lived, loved and built shell mounds here for two thousand years until ancestors of the current residents put a stop to that, clearing the way for golf," he says.
Several other stories, past and present, weave in and out of their peregrinations. First is the story of the deadly 1928 hurricane that created a massive storm surge – not in the Atlantic Ocean or the Gulf of Mexico, where it might be expected, but in Lake Okeechobee, Florida's shallow inland sea, which covers 730 square miles. It killed some 2500 people, many of them African American sugar cane workers. Pertinent to Dorsey's tale, a rich sugar baron's fortune in gold coins was lost in the calamity.
A few years before Serge began his trek, a preternaturally bright young girl from a town near the lake found one of these gold pieces. Then another. And another. After that, she figured out the scatter pattern and located many more, hiding them away in her grandmother's house. But she's not the only person on the lookout for lost treasure. A degenerate sea captain named Nasty Crack wants to find the sugar baron's loot too, and if he finds out the girl possesses it, would stop at nothing to steal it. None of his fruitless treasure-hunts will persuade you he's any kind of a nice guy. You also see the girl – smart as a whip and obsessed with the idea of playing football – as she grows up. By the end of the book she's in her last year of high school.
The tone of the story – told in third person, but clearly channeling Serge's manic psyche – is light and amusing. His mind is like a rambunctious puppy, dashing here and there, trying this and that. At times he and Coleman launch into a jag of childishness, racing and chasing each other, finger-painting murals for their motel walls, dressing as clowns and generally acting up.
Dorsey was a reporter and editor for the Tampa Tribune for 12 years and has 22 previous novels under his belt. The Boston Globe's description of him as 'compulsively irreverent and shockingly funny' fits. Take a ride with his man Serge, and you'll be treated to a smorgasbord of humour and lore and a full deck of notable characters along the way.
For more gonzo Florida crime fiction, see the work of Carl Hiaasen.
HarperLuxe
Print
£21.35
CFL Rating: 4 Stars