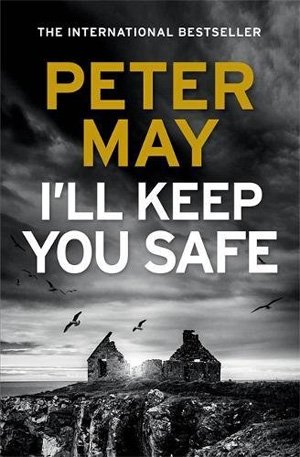 Written by Peter May — Fans of Peter May's Lewis Trilogy will be delighted that he has returned to the windswept Hebridean islands for his latest murder mystery. The series has sold more than a million copies worldwide and this former screenwriter's great skill is to evoke a strong sense of place. He has transported us to the Scottish, Canadian, Chinese and French locations of his various books like armchair travellers so that we barely need to leave our firesides to navigate airports and ferries to experience the places for ourselves. One of the reasons for this is that, unlike some crime fiction authors, he doesn't rely on Google Earth, he only writes about places he has visited, and he loves research.
This time he's done his homework on the Harris Tweed industry, Hebridean funeral practices, bomb blast victims, the Dark Web and forensic technology. However, this Hebridean standalone, like the atmospheric Coffin Road, does not feature the Lewis Trilogy protagonist, former policeman Fin Macleod.
I'll Keep You Safe begins in Paris where Lewis-based husband and wife Niamh and Ruairidh Macfarlane are on a business trip to promote their cloth company Ranish Tweed to the great and the good at ta fabric fair, following their success in breaking into the high fashion market. The entrepreneurs aged in their 40s have seen huge success and have been courted by the big fashion houses only to see it snatched away through a fight with a major player. What's more, the couple's once passionate marriage has been gradually cooling.
The pair have a major bust-up in their hotel when Niamh sees an email from a 'wellwisher' advising her that her husband is having an affair with Russian designer Irina Vetrov. Minutes later she spies Ruairidh stepping into a car with Irina and the pair are blown to oblivion by a car bomb. The shockwave from the blast knocks Niamh off her feet and into a spiral of grief that sees her examining her 10-year marriage in detail.
Initially the Paris police suspect both the victims' spouses, Niamh and Irina's husband Georgy, as terrorism is ruled out and murder ruled in. As Niamh is allowed home to her remote clifftop home in Lewis, with her husband's scant remains bagged and boxed, the backstory of her former life dominates the narrative and she replays her relationship with him from their schooldays in the 1980s.
We learn about and understand the feud between Ruairidh and Niamh's families, how Ruairidh saved her life and vowed 'I'll Keep You Safe', and the tricky relationships between Niamh and childhood friend Seonag, and Ruairidh and fashion house celebrity Lee. Their families are no strangers to earlier tragedies either.
Niamh's description of the familiar landscape and moods of Lewis offers a native's insight into the traditions of the families cutting the peats and the protocol at funerals, which exclude female mourners at gravesides. We squelch through the treacherous and boggy moorlands with Niamh as her life is almost taken and witness the cruel death of a boy dragged out to sea by the ferocious and deadly currents. Ever present is the rigid and dour eye of the Presbyterian church. And we see the islands' storm-lashed bleakness and the unexpected moments of beauty through the eyes of the Paris cop Sylvie Braque.
The mystery is largely told by Niamh, but switches several times to passages told by Braque, when she follows to investigate the case in Lewis with a stoic local cop. It is in these chapters towards the end of the book that the subplot about Braque's reaction to Lewis and preoccupation with her own domestic life becomes a diversion that loosens the tension built up so far. There aren't that many suspects woven in the frame and when the culprit is finally revealed, it's believable. But the final twist in the tweedy yarn is perhaps a stretch too far.
You can also read our interview with Peter May.
Quercus
Print/Kindle/iBook
£9.49
CFL Rating: 4 Stars