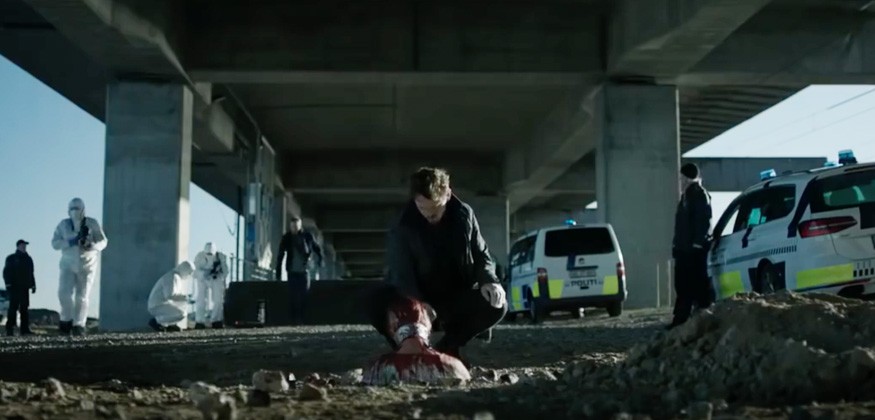 Saga Norén has become one of the iconic characters of Scandi noir TV, alongside Kurt Wallander and Sarah Lund. In January, the meticulous Swedish detective with a forthright way about her will begin her final case on British screens as BBC Two airs The Bridge IIII. We don't have a transmission date yet, but we do know that the show is out of production and will be broadcast in Denmark on 1 January 2018. Watch this space, and watch the trailer below.
The last time we saw Saga was in December 2015. Played by Sofia Helin, she was being talked from the brink of suicide by her pill-popping partner Henrik Sabroe (Thure Lindhardt). He convinced her to help him find his two missing daughters – the children he imagines he can still see, such is his grief and level of drug dependency. Saga herself was distraught after being accused of her mother's murder, and after being told that her sister may not have died due to her parents' Munchausen syndrome by proxy, as she always believed. She was more or less at breaking point.
According to plot details released last year – which may have been altered during production – as The Bridge IIII begins Saga is in prison in Ystad for her mother's murder. Meanwhile, the body of the director of the migration agency in Copenhagen is found stoned to death on a manmade island at the base of the bridge across the Oresund connecting Denmark and Sweden. A deportation case may have sparked the killing. Henrik begins his investigation, but he wants Saga's help, so he visits her in prison.
More than that, he needs her assistance in his search for his missing daughters, but her ability to do so is limited by her incarceration. Various rumours abound about whether or not the series will feature Saga's previous Danish partner Martin Rohde (Kim Bodnia), who is also in prison after he murdered his son's killer during season two. The implication was that Saga put him away, after all she is a stickler for the rules.
The story will take place more on the Danish side of the bridge according to early reports, and it has already been confirmed by writer Hans Rosenfeldt that The Bridge IIII will conclude Saga's story. It will be fascinating to see how she and Henrik overcome their past tragedies while also solving the case at hand. From the theme of immigration, the writers will explore the wider issue of identity – of the victims, the culprits, the investigators and ultimately even us viewers.
The Bridge season two was among our top 10 crime shows of 2014, and season three was our number one pick the following year. The programme has gained huge audiences around the world, and is one of the defining pieces in the Nordic noir sub-genre. Over 1.8 million people tuned in to watch the first episode of series three when it aired in 2015. There have been three remakes, with the stories moved to the US/Mexican border, the tunnel between the UK and France, and even one between Estonia and Russia.
You can catch up with previous series on Amazon Video, below. For more Scandinavian crime fiction, click here.